Vegetarians and restricted-diet foodies can now enjoy the 'extraordi-roti' health-binge at Bandra's concept café. We had two dna readers check it out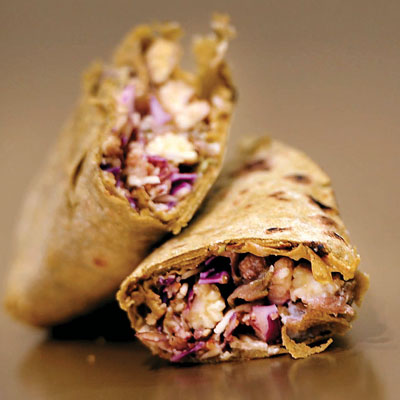 Bandra-resident and dna reader Erica De Souza, whose diabetic mother was enough of a reason for her to step into Café @ JIWA, says, "I heard of the place through facebook and needed to see if my mother had other alternatives to healthy and tasty eating." In De Souza's words, JIWA is, "Unique, different and enough to capture people's attention with a special wheat for diabetics. I liked making my own wrap, where I could choose my own filling." By the look of it, she is likely to come back for more.
Twenty seven-year-old Raghav Gupta, owner and founder of Café @ JIWA, puts an end to the exhausting diatribes of animal-free-lifestyle lovers. His novel concept not only provides a solution to vegetarians preaching from their position atop Mount Judgment, but also makes his café a one-stop-shop, where one does not have to create a pandemonium to avoid getting heart-clogging food on one's plate. Gupta's rationale is straightforward: why not add a twist to the staple foods that we are used to? He makes wraps out of roti from his organic and healthy aata called JIWA, a brand that he believes creates a connection between health, food and life.
When flour is an heirloom
Gupta takes us around his concept café, located off Linking Road. Amidst the chaotic traffic and the abundance of ill-timed roadwork in the area, finding this spot is not exactly a walk in the park. Yet, waltzing into his roti café feels like we have been catapulted into a peaceful microcosm in itself, magically blocking out the blaring sounds of the busy Bandra streets. The Babson University alumnus, hailing from a family dealing in wheat manufacturing since as long as he can remember, Gupta knows a thing or two about the world of food and nutrition. "We supply to Kelloggs, Parle, Britannia and we make bread and biscotti as well," he shares, before adding that JIWA, to him and his family, is a novel venture. "Stepping into the world of customised wheat to help diabetics and other restricted-dieters or to create a slimming wheat for those who always keep an eye on their waistsize was not an easy move," he says. After a year and a half of research and months of food-tasting, Gupta's wish to bring roti back into our diets—the healthy, organic and modern way—was finally realised. With practically a PhD in roti-making and the help of food consultant, Aditi Goel, Gupta manages to put together an innovative menu for those opting for "anything healthy."
Novel approach
With a minimalistic approach that refuses to burn a hole in your pocket, Goel's tofu paprika or chargrilled fruit with hummus wraps have us asking for more, whereas the dark chocolate popsicle, with no added-sugar, had us delighted at the possibility of healthy-meets-yummy.
Healthy, snacky and reasonably priced? De Souza certainly thinks so. She is not the only one. dna reader, Shraddha Bhargava Chaturvedi agrees with her. Chaturvedi, another Westcoast resident, whose dehydrated palate met with a lemongrass cooler, says, "The cooler quashed out the misconception about sparkly drinks being the best coolers."
For Gupta, a concept café like JIWA is a step forward to promote healthy living without duping consumers. "While many products in the market are sold as 'healthy and organic', we have the customer see exactly what goes into the final product that he or she has to digest," explains Gupta. Focusing on health and nutrition without side-lining the importance of the smacking-of-lips, Gupta's new venture might not be the go-to option for many just yet, but he has definitely highlighted the new wave of healthy living that has taken over Bandra.