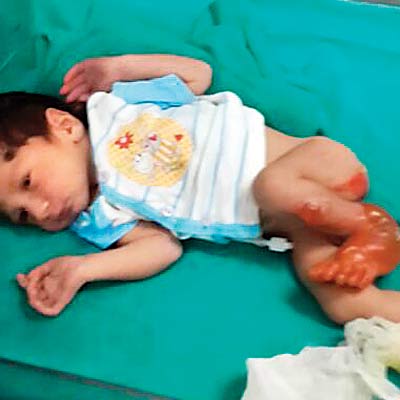 A newborn baby was seriously scalded during a bath early on Saturday, at a hospital in Pydhonie, hours after he was born.
The incident happened at about 5am at the Haji Karim Mohanned Suleman Hospital when the child was taken for a bath by a nurse.
Hours later, the baby was shifted to the Saboo Siddique hospital in Bhendi Bazar where he was treated for eight to ten percent burns.
According to Shabbir Afridi, 28, the baby's father, the treatment involved plastic surgery on the calves, shin and back. The condition of the child is stable.
The Pydhonie police have registered a case against the hospital and as well as the nurse, under section 338 of the Indian Penal Code, which sets punishment for causing grievous hurt by an act that endangers the life and personal safety of others.
"The nurse, Sumaiyya Amin Ansari, took the baby for a bath. Suddenly he started wailing. We could not understand why he was crying so much," Afridi told dna.
He even refused to be breastfed. It was only a couple of hours later when the mother, Shahista, undressed the baby that they saw his legs and back had turned red.
"It was apparent that the nurse had poured water that was so hot that it burned my poor baby's body. When we brought it to her notice, she apologized. Till then they remained secretive and did not tell us anything," Shabbir alleged.
The hospital authorities would not comment about the incident.
Dinesh Ahir, senior police inspector, said that the nurse had been on the night shift between 8pm and 8am and that she was off duty on Saturday. "We cannot arrest a woman after 8pm as a woman cannot be called to the police station after 7pm according to high court orders. So we will have to wait till Sunday morning," Ahir said.