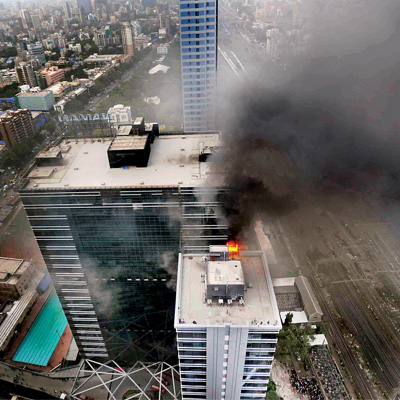 The fire in a high-rise in Parel on Saturday has once again raised serious questions about the preparedness to deal with such incidents.
Over the past decade, a number of high-rises have come up in the city prompting a review of the measures required to prevent accidents or rescue occupants when they do happen.
But experts believe that not enough is being done to make people aware about the steps they should take in these situations, or to help fire and rescue teams get to the spot quickly.
"Mumbai has come a long way in terms of installation of fire-fighting equipment in high-rises. This is due to the stricter norms in force. But 2-3 years down the line people responsible for the maintenance of equipment become complacent and here lies the problem," said Amarjit Singh Jhandwal, former chief fire officer.
He said mega cities the world over placed importance on public awareness to help deal with accidents. "How many of us know the location of the fire exit or the escape route on a particular floor," he asked.
Jhandwal also mentioned the response time as an important factor. "The traffic congestion is a serious obstacle. We have to increase the number of fire stations," he said. Today, there are 33 fire stations in Mumbai and a panel has recommended that there should be 26 more.
A former civic official in the engineering department mentioned that some builders were not complying with the development control regulations that require a minimum six to nine metres space around the building structure, to enable proper access for rescue teams.
Asked whether the rules were followed at the Parel tower where the fire happened, deputy chief fire officer Shashikant Kale said this would be investigated in due course.