en[counters], a Mumbai-based art festival directs the city's attention at shrinking open spaces.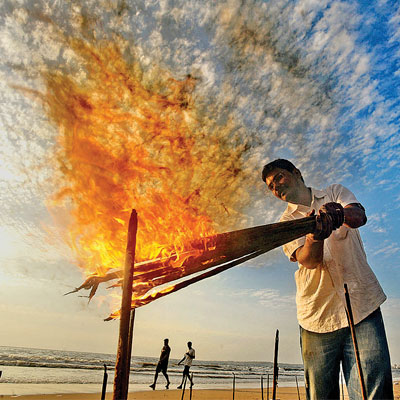 Claudio Maffioletti and Leandre D'Souza, the brains behind Andheri-based ArtOxygen, presented the fifth edition of the annual public art festival, [en]counters–Is There Love in This Air? with young gusto on February 20. Their aim: turning the spotlight on open spaces in the Westcoast like Carter Road in Bandra and Juhu Beach, which have been transformed into exhibition spaces till March 2.
The perfect antidote, this series of public works is curated by Indian and international artists trying to establish a dialogue and explore how a contemporary art practice can become a catalyst to activate Mumbai's open spaces. "It is our way of creating an awareness of the city through its open spaces and streets, which are chaotic and archaic," declares D'Souza. Every edition looks at one aspect of the city and the 2014 festival revolves around the notion of 'air'.
'en[counters]', the perfect antidote, hopes to create new creative trajectories in spaces uncommon for art, through site-specific installations, situational performances, time-based street actions and community workshops. Every edition looks at one aspect of the city and this year the festival revolves around the notion of 'air'.
As part of 'Breathe Easy-art interventions by the beach' artist Pradeep Mishra created a playing field for public celebration and dialogue with his work that looked at the human cycle of life-death-afterlife. Using a sea of incense sticks, he created a natural and delicate fragrance as a way to counteract the harsh odours and chemical toxins filling the city's air. Bandra-based artist Reena Saini-Kallat shared a letter by a mother to her child along the shores of Juhu beach with salt. As she wrote the letter using salt, her work got washed away, unperturbed, she continued and rewrote the letter every time the waves washed it away, as she turned the limelight on the fragility of human existence comparing the words to human life and the waves to the troubles we encounter.
Do attend!
Halo in the sky,
Artistic interventions by the promenade
February 28 to March 2, 4.30 to 7.30 pm at Carter Road Promenade, from the Titan Clock Tower to Amphitheatre