41-yr-old, 4 associates detained; sought to highlight issues of backward communities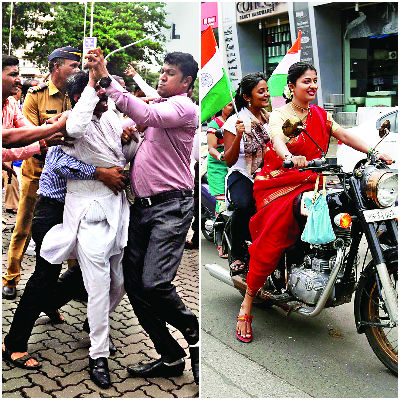 A 41-year-old Aurangabad advocate was detained by the police after he tried to immolate himself during the independence day parade outside the Mantralaya state headquarters in south Mumbai on Friday.
How did the incident happen?
The lawyer, Rahul Mhaske, had poured kerosene over his body and was about to set himself ablaze when the cops spotted him and stopped him. The incident happened near the Sachivalaya Gymkhana after the parade had started.
Were any others involved?
The Cuffe Parade police also detained four others who were with Mhaske. They said that the five were part of a group that wanted to draw the attention of the government to issues of the backward classes.
What was the reason for the act?
They are members of the Maharashtra Rajya Magasvargiya Audyogik Sahakari Sanstha Bachav Sangharsh Samiti, based in Beed. The samiti has been raising several issues, the foremost of which is the clearance of 449 proposals concerning scheduled class communities.
How did the cops come to know?
The police said they were informed by their counterparts in Beed that the lawyer planned the immolation.
"We spotted five persons near Sachivalaya Gymkhana. One of them was carrying a bag. Another poured kerosene on himself and was about to set himself ablaze when the police men overpowered them and detained them," said a police officer.
What are the charges?
The four others were named as Ashok Bhapute, Rameshwar Nikalje, Shailendra Dhepe and Rameshwar Tayde, said to be social workers. They have been charged with attempt to commit suicide under section 309 of the Indian Penal Code and sections of the Bombay Police Act.