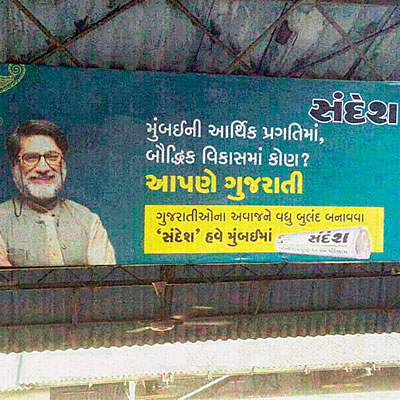 Some prominent Gujaratis in Mumbai are shocked and peeved at the criticism by Raj Thackeray of a Gujarati newspaper and have described it as "a political stunt".
"Where is the need for the Maharashtra Navnirman Sena (MNS) to ape the Shiv Sena if not for political gains? This is clearly to gain political mileage," said Pravin Chheda, spokesperson of the Congress party.
Chheda pointed out that the community has contributed to the city in various ways and there was no need to prove this. "In fact, of the 105 martyrs of the Samyukta Maharashtra movement, four or five were Gujaratis," he said and mentioned the names of Chimanlal Sheth, Ramchandra Bhatia, Ravjibhai Dosabhai Patel and Devji Rathod that are engraved on the martyrs' memorial in South Mumbai.
The MNS has criticised "The Sandesh" newspaper advertisements on public buses for talking about the contribution of Gujaratis to Mumbai and ignoring the efforts of the Marathi people.
Dinkar Joshi, Gujarati author, said the criticism was unacceptable and unconstitutional. "Such a move was made in 1954-55 also. First the Gujaratis were targeted, then the South Indians and recently the North Indians. This is not a civilised way to register annoyance with anything and such attacks should be opposed by all," Joshi said.
Filmmaker Sanjay Chhel expressed his surprise saying, "We have lived together with all communities for generations. Gujaratis have set up institutions like hospitals, schools and colleges. They are also involved in films and financing. Dadasaheb Phalke's first movie was financed by Mayashanker Bhatt, a Gujarati," Chhel said.
When contacted, Parthiv Patel, managing director of "The Sandesh", said, "We mean no disrespect, nor have we anything against any community living in Mumbai. The stand taken by some political parties is not only against The Sandesh, but against the entire media fraternity."