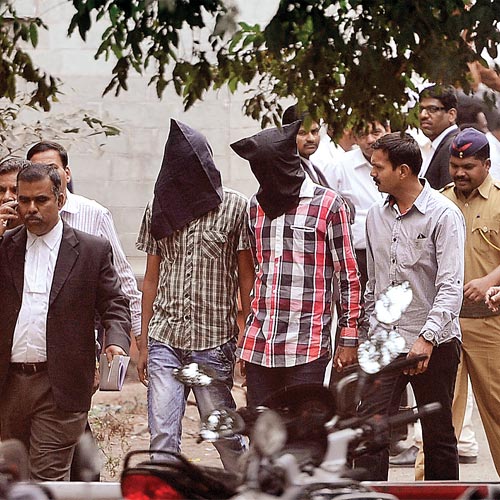 The day after two persons were arrested by the Pune police for 'killing' rationalist Narendra Dabholkar, one of the two said he was offered Rs25 lakh by head of the Anti-Terrorism Squad (ATS) to admit to his role in the murder.
Counsel for Manish Nagori, 24, told a court on Tuesday that he was offered the money by Rakesh Maria, ATS chief, as home minister RR Patil was under pressure to show progress in the case.
Nagori and the other accused, Vilas Khandelwal, 22, have been in custody since August in some other cases. They were arrested in the Dabholkar case after a court issued a production warrant against them on Monday.
Dabholkar was shot dead on August 20, 2013. The police said that the weapon used by Dabholkar's killers was seized from Nagori, but they had to probe how it got to him and if he was involved.
But Nagori told the court that he was accused in two other murder cases in Pune and was arrested in Thane in connection with those cases at 10.30am on the day that Dabholkar was murdered in Pune. "How can I be arrested around 10.30am in Thane on the same day and be involved in this case?" Nagori said.
Senior police officers have rejected Nagori's allegations. However, there is no convincing answer to the question about how the arrests happened just after the home minister had threatened to hand over the case to the CBI.
Lawyers for both men petitioned the court that they be allowed to meet them periodically to ensure that they were not subjected to physical or mental torture in custody.
Assistant public prosecutor Madhav Poul told the court that chemical analysis and ballistic reports showed that the bullet which hit Dabholkar matched a 7.65mm calibre gun recovered from the two accused.
The duo has been remanded in police custody till January 28.