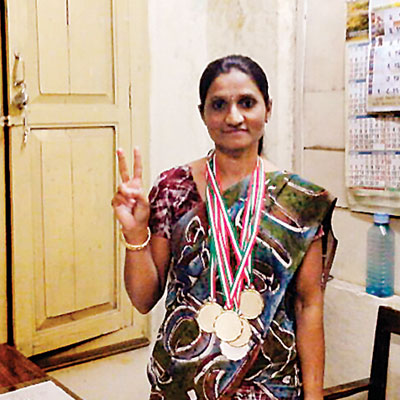 Kalyan Police Naik, Shobha Desai, has a bag full of medals and trophies to her credit. She will soon be participating in the Master Athletics International Asian Championship, slated to be held in Japan. Desai, who has been in the service since eighteen years now, got an opportunity to participate in the international tournament following her victory in the Master Athletics held in Mangalore.
Desai is very excited about her first international tournament. "I've always had a keen interest in athletics. My father, a sportsman, always motivated me to continue playing. It was only after the birth of my daughter that I took a five-year break, but otherwise I have been constantly involved in athletics. I have been participating in national-level tournaments and marathons across the country, since school" adds Desai. She won the first prize in 1500 m, 5000 m and 10000m at the Mangalore championship, which proved to be her ticket to the international tournament.
On Sunday, she attended the Surat marathon and came fifth among 42 runners. She has participated in marathons in Cochin, Delhi and Mumbai. Of late though, she has been increasingly focusing on marathons. "The money I win at these marathons prove to be of great help. Although the police department helps provide facilities while attending sporting events, for international events I also need sponsors due to the high expenses I incur. Around Rs1,70,000 will be my expenses for attending the upcoming international tournament," says the 38-year-old.
She manages her house and her duties well. While she is busy attending tournaments, her mother takes care of Desai's 9-year-old daughter. "The police department has helped me a lot, especially to avail of coaching facilities. Thrice or four times a week I attend coaching at Thane's Dadoji Konddev stadium. The training available here is of great help to build my stamina. I am practising hard to achieve the international tournament and hope for the best," said an enthusiastic, yet anxious Desai.