A recent addition to the street art in Mumbai is a 6ft sculpture of the face of Sachin Tendulkar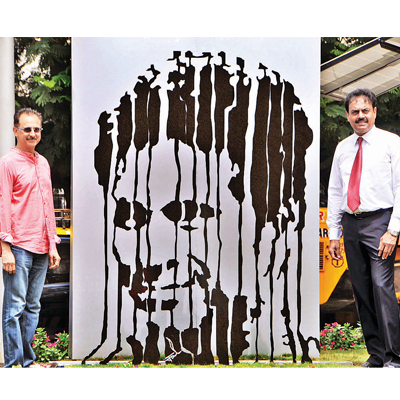 Confining art to just four-walled exhibitions and galleries has become outmoded; with the entry of street art, a form that is ephemeral and is now ubiquitous (read: globally). Mumbai has been soaking in the fad from the time when young graffiti artists decided to paint the town red, literally. Sculptures (of politicians and leaders) and public art exhibitions have also been a characterisation of this domain in the city. Another applaud-worthy initiative is one where the BMC supports private bodies and organisations to join hands in beautifying the city, allowing the latter to adopt spaces for instating art on the street.
Take your car for a spin at Marine Drive, Nariman Point, and chances are you will not miss a 10ft giant head of a baby, an art piece by sculptor Chintan Upadhyay planted at one of the traffic signals. The fiberglass artwork suffuses pictorial illustrations from contemporary city life, more like a page replicated from the chapter called 'Mumbai'.
Out of plenitude of ideas, RPG Art Corridor, which is an RPG Art Foundation's initiative (who are also responsible for the above,) decided to define Sachin Tendulkar quote 'When people throw stones at you, you turn them into milestones', to beautify a city traffic intersection. Marking the Sasmira junction at Worli, this beauty of a sculpture, a 6ft face of the God of Cricket in India donning his impish smile, reflects the Master Blaster's charm (on carbon-fibre and aluminium alloy). Jaideep Mehrotra, the visualiser of this concept, says, "I think it is a fantastic initiative. We need more people involved as it helps them, helps the artist and also helps to beautify the city and adds an element to it."