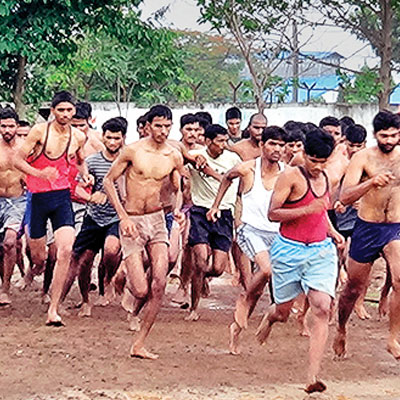 An army recruitment rally was held from June 16 to June 23 at the Rajiv Gandhi Stadium, Jawhar, to select candidates from the rural and adivasi belt of Mumbai to fill slots of 'Other Ranks' category of the Indian Army. Approximately, 30,000 candidates particaipated in the seletion procedure and for the first time, a high response was recorded from districts like Thane, Raigarh and Mumbai city which were considered to be the low response areas in Mumbai district.
The recruitment was conducted under aegis of Headquarters Recruiting Zone, Pune with administrative cover of Headquarters Maharashtra Gujrat & Goa Area and Sub Area, Mumbai. The entire selection procedure was recorded and videographed. A grievience cell was provided for the candidates and screening teams from army recruitment offices in Ahmedabad and Pune headed by director Col Rahul Sinha worked round the clock to ensure transparency. Medical officers from Pune carried out medical examinations on the selcted candidates on all the days.
Headquarters Recruiting Zone, Pune is planning to hold more such kind of recruitment rallies to reach to youth in rural and remote areas of Maharashtra with the aim to select the best and to provide more employment opportunities in these areas.