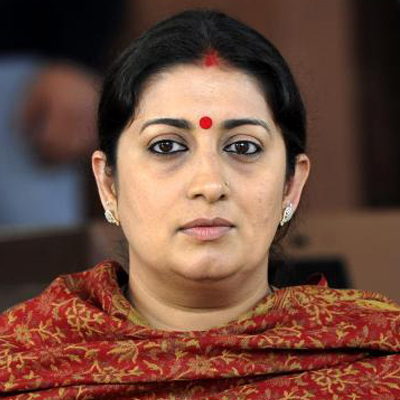 The appointment of BJP leader Smriti Irani, who has passed only 12th standard, as the new Human Resource Development Minister has evoked mixed reactions from people from different walks of life.
Ajit Ranade, economist and an activist of the Association for Democratic Reforms, said, "I think she should be given a chance. After all she is the youngest minister in the Modi cabinet. Some people have pointed out that Rabindranath Tagore, who won the Nobel prize, never went to college. The basic question is whether she is showing the necessary leadership and vision which are very necessary for the HRD ministry. No single person can have a grasp of the complex issue of government. In any case, it is the bureaucracy which implements the policy. She must be given an opportunity to prove herself.
Mahesh Jethmalani, lawyer and BJP member, said, "Smriti is eminently qualified to head the HRD ministry. In any case it is the prime minister's prerogative to chose his team. Modi gets the credit if she performs well and the blame if she fails. Either way, the call is his."
Lawyer Amit Bhowmick said, "Her appointment goes against the grain of the BJP's victory. Is this what the people voted the BJP to power. The nation does not deserve this appointment. Her appointment proves that the NDA is no different from the UPA."
YP Singh, activist lawyer, "It is a clearly undesirable appointment. HRD is a senior ministry and it is unfortunate that a person of Smriti's background has been placed in charge of a crucial ministry. The HRD ministry is the heart and soul of India's intellectualism and its functioning is critical to our economic growth. The Modi government is no different."
Professor Indira Satyanarayana said, "It is true that certain level of education is needed to head the HRD ministry. But having said that I would also like to point out that one should not prejudge Smriti. There are several cases where people who are not well qualified have performed exceedingly well. I studied in the same school as Tamil Nadu chief minister J Jayalithaa. She is a college drop out. But, look at the tremendous leadership she is providing to Tamil Nadu. Dhirubhai Ambani also was not a graduate. Yet, he succeeded hugely as an industrialist. Modi himself was dismissed as a "chaiwala" by Mani Shankar Aiyar. Yet the man became the prime minister. Life experience is the best qualification. One should be fair to Smriti."
Vinay Sahasrabudhe, BJP ideologue, said, "A needless controversy is being created over Smriti's appointment. In a democracy, educational qualification has never been an issue. General exposure to public affairs is rated higher in a democracy than formal educational qualificaitons. The people are the best judge. Those who are targeting Smriti are displaying a total lack of understanding of democracy."