From (govt) transfers, college admissions, helping establishments evade sales tax, sanctioning loans, helping an accused to go scot-free, to manipulating legal evidences and creating forged (property) documents, corruption, one of the biggest evils of the society, has clearly seeped through all segments.
The state Anti Corruption Bureau (ACB), in a record-breaking feat, arrested 683 govt officials through 500 traps in the first five months this year. The department feels corruption has become a way of life and has permeated every department and every level of governmental hierarchy and hence become a more challenging task to tackle.
To curtail this and to create more awareness among the public, ACB has compiled a detailed report for public circulation that entails the modus operandi and procedures by which corrupt officials extort money from the public.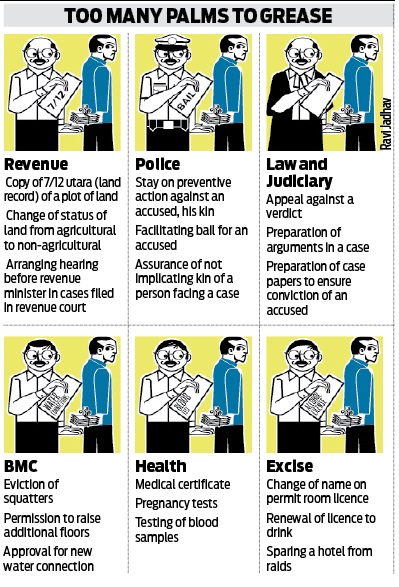 ACB director general Pravin Dixit said: "This is an initiative we launched in the general interest of the public. People are generally not aware of the various ways in which officials seek bribe. Many a time, they don't even know they are paying bribe to get things done. With this initiative, we hope they are more in the loop of things and approach us whenever a bribe is sought from them. This way, we can ensure that every corrupt official is booked. This cannot be done without the help of the public."
The agency, after doing a thorough research on the functioning of every governmental department, has compiled an online report on the ways in which govt officials trouble ordinary citizens at every stage.
The most number of cases are in departments such as revenue, police, land records and electricity board. Some of the other departments that have recently come under the radar are education, health, sports, social welfare, etc.
While in police department, officials usually seek bribe to ensure that no case is filed or to get bail, or even to tamper with evidence, in revenue, officials seek bribe to convert non-agricultural land to into agricultural land, division of land, or for getting funds sanctioned for drip irrigation, etc.
In departments such as education, bribe is sought for admission, permanent appointment in teaching posts, allowing leave or for assessing answer sheets, while in the health department, bribe is demanded for health certificates, treatment, blood sample testing, etc.
The report has analysed the ways in which almost 36 govt departments squeeze money out of people.
"We only hope that after this report becomes public, people will become more cautious and careful, and would understand the difference between bribe and legitimate money transaction. This would help us in effectively controlling corruption and detecting corruption cases faster," said Dixit.