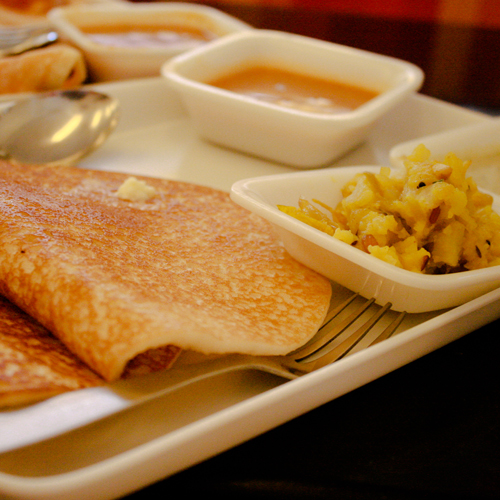 New Sardar, the 82-year-old restaurant and a landmark in Lalbaug, shut shop on Monday, March 31, 2014. I was not sure I saw this coming, to be honest. For quite some time, I had been hearing about it in passing. The date kept getting pushed, from September to November to December. And then finally, it was really happening. Sardar was shutting down.
The news took me down memory lane. Whether it was a family outing at the zoo (a couple of blocks away), or filling my college admission forms, New Sardar restaurant had something to do with it.
So, when the word about it shutting down got out, I just had to go visit it one last time. And there I was, at one of my most favourite restaurants, sitting across the table from the owner, Vivek Prabhu, sipping on what is probably the best iced tea the city has – or should I say had – to offer.
"I have been running this place for 22 years. What I inherited was a simple batata wada and missal-selling hotel, I transformed it into a complete dining experience," Prabhu said.
Looking around the hotel, I saw certificates of excellence of taste hung all around. What was it like, I asked him, to shut down something so iconic? "You know, honestly, I did not know this place was so important to people until my daughter put out a tweet about it shutting down, and about 77 people retweeted it. And not just that, she got a lot of people tweeting back, telling her their memories of the place and how they would miss it." That was when, he said, he realised he had built an icon. "It is overwhelming to know there are so many people who are genuinely concerned. From the day I announced the date of the shutdown, tonnes of old clients are coming back, for that one last meal in the restaurant they once visited every day."
What's the big deal?
What is it that made this restaurant such a favourite among people? Without a doubt the food is flawless. Be it the missal, puri bhaaji, batsal, the garlic cheese dosa (the first ever in the country), the grilled sandwiches or even the plain dal-rice, all are flavoured to perfection and at extremely affordable prices.
However, it's not just the food. I don't remember a single day at Sardar when I have not seen friends of Prabhu visit. In fact, I barely remember having seen him behind the counter at all. He was usually at one of the tables, making conversation with a costumer. "We are not like any other hotel," he said to me. "No hard and fast rules about how much of what you eat. You want the masala dosa bhaji, instead of the regular bhaji served with the rice plate, go for it; you need more gravy with your ussal, you shall have it. You won't be charged for it. I never even bother about how much time customers occupied the table. In fact, I was more than happy to have people over for a conversation," he said.
And I don't see why anyone would refuse that offer, considering the interesting company Prabhu is. I remember meeting a gentleman, who happened to be the owner of a guesthouse I stayed in during one of my road trips to the Konkan coast, who fondly remembered New Sardar and its owner from one of his trips to Mumbai.
"We don't have costumers, only well-wishers," Prabhu said. Just then, another old well-wisher of Sardar walked in, saying she had read about the place shutting down, and just had to, for one last time, drink the iced tea and eat the dal, rice and aloo matar that she had eaten almost every day for the eight years that she was worked near the restaurant.
"You know, I used to order from here every day when I worked with Aakansha (the NGO). After a point, whenever I called, whoever answered the phone recognised my voice and even knew my order. I ate here for close to eight years! There were times when people from my office placed their orders under my name, because they claimed the food was delivered quicker and tasted better that way," she said. When I asked her how she felt about the place shutting down, she said, "I'm going to try making it here again before Monday! Though I haven't eaten here since I stopped working with Aakansha, I'm sorely going to miss this place."
A glass of iced tea and a plate of missal pav down, I finally asked Prabhu why the place was shutting down. "You know," he said, "I have seen this area change. This hotel is located in the heart of Girangaon. This is where the famous mills of the city once stood. Slowly the area started converting into an office area. You know Voltas House (few blocks down the road), right? When that shut down, I lost close to a thousand costumers. They were my backbone. Those offices moved to Vikhroli. With property prices skyrocketing, this area, which used to be primarily occupied by the Maharashtrian community, slowly became an area dominated by Gujarati-Marwadi communities. I am not too sure the batata vada and missal we offer is something they would consume on a daily basis."
Were the other, nearby restaurants facing the same problem? "Hell, yeah!" he said. "There used to be a similar hotel right across the road that has now converted into a bar. Another couple down the road shut down. The only one of the lot doing decently well is Ladu Samrat; and I am guessing because that is much closer to the station and the area immediately around Ladu Samrat still has a lot of Maharashtrians."
Coincidently, Merwans (of Grant Road) also shut down the same day. Looking at all the hue and cry about the city losing out on its legacy of Irani hotels, I asked him if it bothered him that no one was similarly upset about the historic non-Irani hotels closing down. This was also a legacy, a culture that the city was losing out on. "Not one bit," he said. "Especially after all that outburst of love that I have been receiving for the past couple of days, it doesn't hurt."
"You are right about the culture bit," he went on. "What is culture, if not food? When we talk about preserving culture, we need to begin with preserving food. Culture does not mean going to the temple every day. It means a particular way of life, which we are losing, slowly but steadily. It's heartbreaking, but true. Within the next four or five years, you might not find authentic missal or even authentic dosa anywhere in this city. Food habits are changing, which is fine really. But this is costing us some real rich culture."
Nothing was ever done by any of the local political parties, even though the ones in power should have endorsed the restaurant, since we otherwise keep hearing about them taking to violence to 'preserve' Marathi culture. So wasn't anyone in power really doing anything? "The government has the same set of rules for restaurants of all grades. This is what hurts most! Grade I restaurants don't suffer much, because their prices are so exorbitant, their costumers actually end up paying taxes, not them. Whereas with smaller, Grade II and III restaurants, there isn't scope to do so," he said to me. "So what happens in our case is that we don't charge you, we pay the government from our gross profits. These rules and regulations don't work much in our favour," he added.
So what next, I asked him, to which he quickly said, "Viva Kitchen is still running." Viva Kitchen is another, smaller restaurant a few shops next to New Sardar, selling a variety of North Indian and Chinese dishes, mainly catering to takeaways and home deliveries. After a short pause he added, "I'm going to take a couple of months off before I get into planning what I want to do next. All good things need to come to an end. You cannot do new things if you stick on to doing older ones," he said, smiling as he waved at and went over to entertain yet another old well-wisher who had just walked in.
Shruti Shenoy is a copy editor with iamin.in. She tweets at @shrootishenoy.