If you are in Mumbai then Karima Dawoodani could help you ring in the New Year with awesome gifts for familly and friends.
Christmas was hard enough to shop for, and just a week later New Year shopping pops up. How many sweaters, ties and handbags can you shop for? I know I'm fed up of getting the predictable super-hero T-shirt or IPhone cover. So here's a chance to give someone you love something completely different. Karima Dawoodani, a young Bandraite with an impressive resume of artist, former interior designer, art director and more, decided that she wanted an outlet to let her creative energies flow out. Through her company Soul Works, she did just that.
Soul Works, started out with a simple idea to make a unique gift for a friend. She started off making Tiny Temples, a modest, portable and compact easy to maintain piece of worship. What started as an act of thoughtfulness for a friend ended up being one of the biggest ventures Karima would undertake.
I decided to get a perspective on her work, and so I sought out the Bandra based artist in an attempt to understand her work.
Karima first began to explain how she got inspired to take on the venture. "As a child I have always had the curiosity and excitement to craft things on my own instead of buying things from the market. This time around in a conversation with a friend it came up how he wanted to get a temple to keep in his rented apartment, that would be contemporary and compact. Something he can carry from one home to another without much effort. That was the start of the concept of tiny temples. I arranged 6 miniatures in a box, put a bell to it; and that was the very first temple I ever came up with. A fun experiment became viral, as people saw pictures on Facebook and enquiries started pouring. From that day there was no looking back."
Bringing in these niche items into a market filled with commercial and branded items couldn't have been easy, so I asked Karima how she coped with these problems, "Selling was easy, making money through it wasn't! Retailers/ exhibitions stall costs eat up major profits."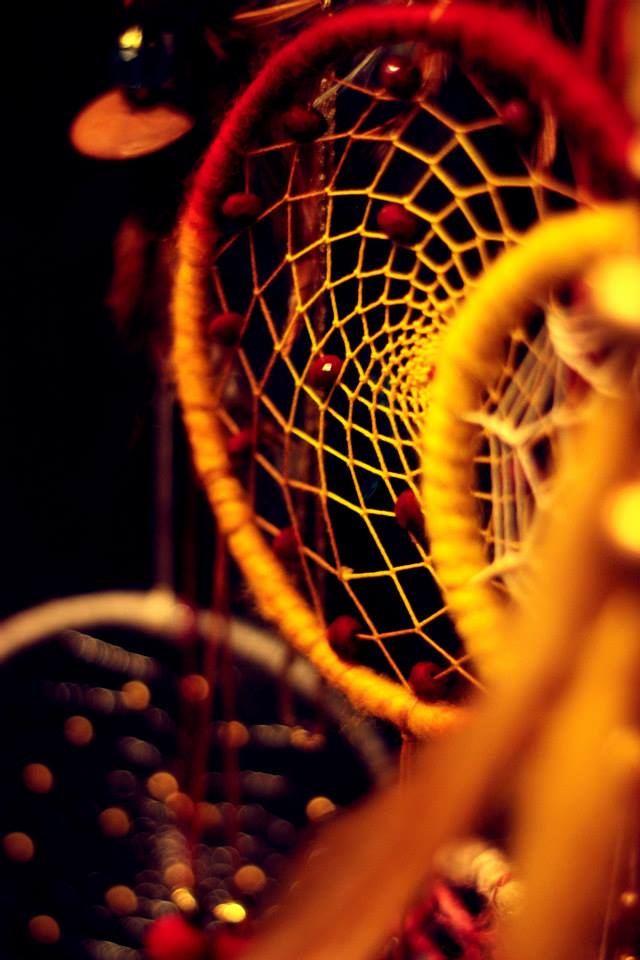 "Exhibition and flea markets have been my way to reaching out, now of course as work has evolved to a larger scale, with art work spreading into three main categories: the tiny temples, dream catchers and abstract paintings, for which the soul works studio has come up, that acts as a more reachable space, that can help people connect to the the brand easily and at any time. " Soul Works is centred around the ideas of divination and meditation, which acts as a dynamic space for inner seeking and learning more about the world around us, says Karima while explaining the core concepts of why she does what she does.
With social media being what it is today, I asked Karima if she took advantage of the virtual world, and whether or not it worked. "Absolutely", says Karima. "Inspite of the fact that soul works is put up in very niche shops in Bombay, the concept has a strong recollection value. People talk about anything that is different and unique, so the concept sells for itself! Facebook has been a great way of reaching out, even better than the Website! Social media is one of the finest way to reach out to art lovers."
She goes on to say, "Dream catchers sell themselves the moment you put them in a place with a young crowd. We recently did dream catcher workshops and exhibitions at Art loft, EVC and Zambhala. Breaking free from stereotype ideas is one of our main goals. Art forms are pure energy bundles and must be seen and understood like that in its true essence without the layers of myth and stereotypes, and that is one of the key goals of Soul Works. Teaching the art is a great way of creating awareness and clearing misconceptions. For example, dream catchers do not just catch bad dreams, it is a whole different esoteric science associated with it, if only you knew, if only you experienced the process for yourself!"
Karima mentions that retail shops at major international airports in India are some of our biggest buyers. "There are few authentic art shops in Bombay 'Tribal route' in Versova and 'Chatrapati Shivaji Museum (Prince of Whales) art shop holds a wide range of Soul Works products."
I visited her studio in Bandra and saw some of her work. Karima tells me that the Tiny Temples and the Dream Catchers make for great gifts and they tend to go out very fast. I asked her about bulk orders and the stress of the holiday rush, but she assured me that with the growth of her business, she took all things into consideration. "Soul works is backed up by a huge team , that makes sure we are always in time for bulk orders in every way. Soul works concentrates on customising as per persons individual energy and intention, be it a dream catcher, a tiny temple or a painting."
The trend of buying these out-of-the-box gifts is growing rapidly, with many of Bombay's youth preferring these as gifts rather than store bought items. Karima Dawoodani and Soul Works has a pretty impressive set up in Bandra and have a variety of Dream Catchers, Tiny Temples and progressive art pieces that would be brilliant as gifts. I even picked one up for my Secret Santa gift.
Awesome secret Santa gift is awesome. =D Thank you, @AndreBorges28 pic.twitter.com/H7i9JzCmTF

— Shikha Kumar (@ShallowAndVain) December 23, 2013
Here are Karima's contact details;
Karima M Dawoodani

Soul Works from THP

+91 9819457887

Here are the prices for various items, although I do recommend you make a trip down to her studio and see things for yourself. Trust me, you won't be able to chose which ones to buy.
Paintings start from 1200 per sq.ft.

Dream catcher accessories and jewellery start from 450-5500.

Tiny temples start from 800-2700.