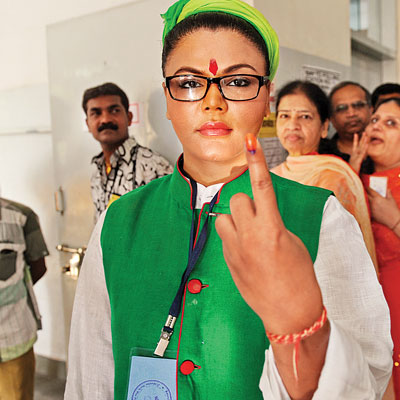 The Modi wave failed to sway a bunch of Mumbaikars living in Malad and Goregaon. For them, TV actress Rakhi Sawant, a candidate of the hardly-known Rashtriya Aam Party, was the chosen one.
Jamil Haider, a private teacher, is proud that he voted for Sawant. Ask the 30-year-old why he chose the actress over other politicians and he is unstoppable. "She is so passionate about everything in life.
Despite all odds, Sawant has the courage to achieve whatever she desires for. It's her passion for life, work and people that drew me towards her."
Another Sawant follower is Archana Agarwal, a gym operation manager in Malad. She was, however, not pulled towards Sawant because of her 'persona'. It was following an incident. "Since 2006 our gym has been struggling to get a huge BMC dustbin placed at the entrance removed. But no one considered our request. Once Sawant got to know of it, she immediately tried to help us out. She did not succeed but I was impressed by her courage... I am confident that she would change the scene if given power," Agarwal said.
NGO worker Ishtiyaq Jagirdaar is a Sawant voter, along with 400 members of his NGO, Human Right Association. Jagirdaar said Sawant and her brother took an interest in the NGO for years. "We wanted to vote for someone who is approachable and cares for the common people. Despite being a celebrity she is grounded," he said.
Of Sawant's 2006 voters, Siddhi Rajendra, a housekeeping worker at a mall, said: "She is a women and she understands our issues... I was confident she would fight for women's rights."
I want to join BJP: After her disastrous performance in the LS elections (she lost her deposit money), Sawant now wants to join the BJP and contest the assembly elections from Goregaon. She claimed she met BJP president Rajnath Singh after the elections and expressed her desire to join the BJP.
She told dna on Monday that she made a "big mistake" by contesting against the Shiv Sena-BJP nominee in Mumbai north-west seat Gajanan Kirtikar.
When asked if she would like to contest the assembly polls later this year, Sawant in a confident tone said: "That is for Rajnath Singhji to decide. I can't comment. Sawant resigned from the RAP on May 17, a day after the results were declared.
Not one to lose an opportunity to show her "closeness" with party leaders, Sawant has put her picture with Singh as her display picture on WhatsApp. Least affected by her poll debacle, a spirited Sawant said she did very well in the limited time she had in hand. "What more did you expect from me in 16 days? However, I admit contesting polls in 2014 was a big mistake. Even bigwigs could not survive the Modi wave," she said.