Ganapathy-trained colt tipped to run away with big prize at Indian Derby today.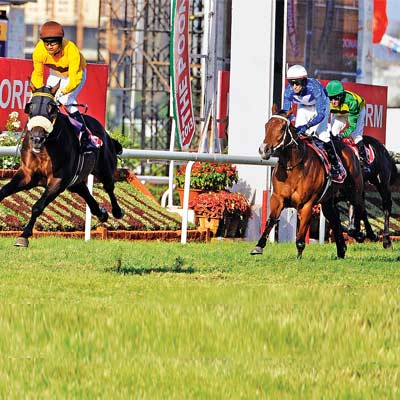 All eyes will be on Murioi at the Indian Derby on Sunday. Having said that, the richest event on the Indian racing calendar has seldom been kind to the heavy favourite. But many believe this colt, trained by S Ganapathy, could create history at the Mahalaxmi Racecourse. " He (Murioi) is fine and is looking good for the big race. He should win in," Ganapathy said, before adding cautiously, "There could also be a surprise, who knows!"
In 10 starts, Murioi has tasted victory on five occasions. His victories include the Ramniwas Ramnarain Ruia Gold Cup (Grade II), the Deltin Casinos Indian 2000 Guineas (Grade I), The Nanoli Stud Juvenile Million (Grade II) and the Poonawalla Breeders' Multi-Million (Grade I), which incidentally is a bad omen as no winner of this race has even won the Indian Derby. B Sreekanth has saddled Murioi to many a victory but, on Sunday, all that pressure will be on Irishman CD Hayes.
Jeremiah, the gelding from Pesi Shroff's yard, is the other main contender who could give Murioi a run for his money. Jeremiah has outrun his pedigree both in terms of class and distance, while Murioi has only done what was expected of him. Both are proven distance runners. Remember Sunday's main event is a 2,400-metre encounter. Alaindair is the other gelding who could set the pace.
Till about two weeks ago, Agostini was considered a rank outsider. But that phenomenal victory at the Bangalore Derby has given this colt an edge. "It just took me five minutes to known him and it was very good as he responded well in the distance," said 22-year-old Beuzelin Louis, the youngest jockey in this biggest race of the country.
"He (Agostini) is good and after winning the Bangalore Derby, he does stake his claim in this derby," added the jockey from Barbados. "I am thrilled to be here and hope will make the most of it," the Indian Derby debutant further said.
First Race: 1:00 pm
Selections
1. The Royal Challenge 'Game For Life' Cup Div II (1,200 metres): 1. Hidden Assie (1), 2. Double Diamond (7), 3. Magic Vision (2)
2. The Four Seasons Cup (1,600 metres): 1. High Expectation (2), 2. Strategic Move (7), 3. Legend Of The Seas (3)
3. The White Mischief Cup (1,000 metres): 1. Victorious March (3), 2. Way Out (5), 3. Invincible (14)
4. The RN Kanga Gold Trophy (1,600 metres): 1. Supreme Star (5), 2. Clinton (3), 3. Storm Tracker (2)
5. The Antiquity Blue 'Fusion Of The Finest' Cup (1,600 metres): 1. Sheer Class (5), 2. Presidential (10), 3. Cyclops (9)
6. The McDowell's No.1 Platinum Trophy (2,400 metres): 1. Reynolds (1), 2. Aviator (8), 3. Ricochet (5)
7. The BK Rattonsey Memorial Maiden Multi-Million (1,200 metres): 1. Quasar (6), 2. Scarlet Emperor (7), 3. Full Moon (9)
8. The McDowell Signature Indian Derby Grade I (2,400 metres): Murioi (7), 2. Jeremiah (6), 3. Alaindair; 5.30 pm
9. The Royal Challenge 'Game For Life' Cup Div I (1,200 metres): 1. Backstreet Bay (1), 2. Dark William (2), 3. Star Zone (5)
Day's Best: Backstreet Bay (9-1)
Outsider: Southern Emperor (8-8)