Four who sneaked into realtor's home at 3am nabbed.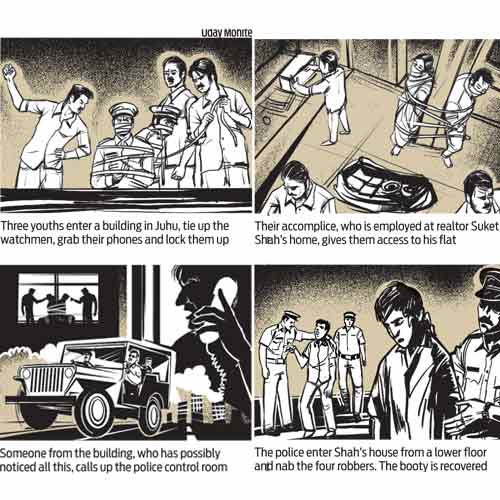 An anonymous call from an unidentified caller and alacrity on the part of the police helped nab four men who almost stole cash and valuables valued at Rs70,000 from a realtor's house in Juhu on Sunday.
Around 3.30am, three youths — Naresh Singh, 23, Krishna Saha, 19, and Ganesh Thapa, 23 — reached Nilgiri Building on 9th road armed with choppers and knives. They planned to rob the house of real estate contractor Suket Shah.
The three men overpowered the two watchmen of the building, tied them up, snatched their cell-phones and bundled them up in a pump room in one corner of the compound, said senior inspector Arun Bhagat of Juhu police station.
They then went to room 402 located on the fourth floor where their accomplice, Kamlesh Saha, 19, was waiting for them. The fourth, who had been employed as a domestic help at the Shah household three days ago, opened the door for them.
"Besides, Naresh and Krishna had been employed in the house earlier," said inspector Bhagat, adding that the four who are from the same village in Nepal had planned the burglary over a few weeks.
One all the four were in, they tied up Shah and his wife in one bedroom while Shah's two daughters were asleep in the other. The four then ransacked the place and laid their hands on cash and other valuables worth Rs70,000.
While all this was happening, someone from the building, who possibly got a whiff of what was going on at the Shah residence, alerted the police control room.
"Once the alert was relayed to us, we quickly deployed a team to the building and zeroed in on flat 402," said Bhagat, adding that the house was locked from the inside. Despite, persistent knocks on the door, there was no response, said the police officer.
"Three of our constables went to the third floor and got onto the parapet on the floor above and made their way into the Shahs' house. "Sneaking into the house through the window, they nabbed all the four," said Bhagat.
All the four youths have been arrested. "The booty has been recovered... This was a well-planned robbery," said Bhagat, adding that they are checking if the four have any past criminal record.