Around 70% bikers die in accidents across the country for riding helmetless.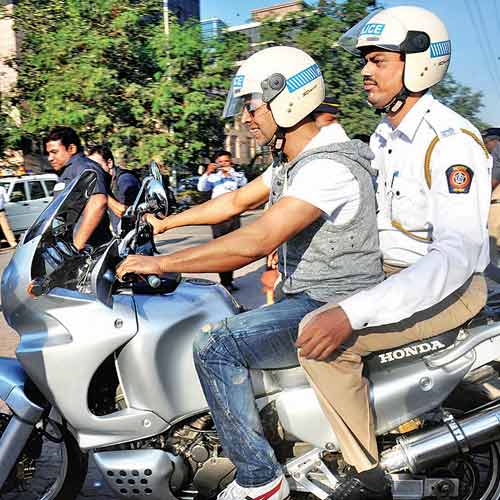 Actor Akshay Kumar was the star attraction of the 'Ride for safety' rally at Bandra-Kurla Complex (BKC) on Sunday.
Organised by the Mumbai police, the rally saw more than 2,000 two-wheelers take part in the event to spread the message of safe driving.
Mumbai police commissioner Satyapal Singh flagged off the rally and he himself rode a motorcycle, appealing to motorists to wear helmets and ride safely to prevent accidents.
Led by Akshay Kumar, the rally spread awareness about the road safety among the motorcyclists.
The rally started from BKC to Haji Ali and back, covering 20 kilometres in about 50 minutes.
Deputy commissioner of police, (traffic suburbs) Pratap Dighavkar, said: "Around 70% bikers died across the country as they did not wear a helmet. This is the reason we want to spread road safety awareness among bikers."
Dighavkar added: "This year, 49 bikers were killed in the accidents till August. Last year, a total of 77 motocyclists lost their lives in accidents. In 2011, a total of 72 bikers died while in 2010, 67 bikers were killed in accidents."
"If we see the record of the total accidents across the country around 1.50 lakh people die in the accidents on an average and out of them 49% are bike riders," said Dighavkar, adding, "The youth are very energetic and they ride bikes very recklessly."
The actor message was: "If you value your life and your family, wear helmets and ride safe."