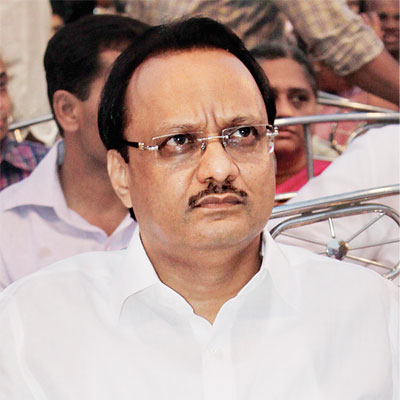 A farmer from the drought-affected district of Solapur, Bhaiyya Deshmukh said Ajit Pawar's callous statement about the acute water scarcity in Maharashtra is irresponsible and has hurt the sentiments of many.
Deshmukh, who has been on a hunger strike for the past 64 days with 50 people at Azad Maidan, said, "Although Ajit Pawar has apologised, farmers won't forgive him. Whatever Pawar said shows his mentality. Such a responsible person should not give such an irresponsible statement. He has no right to hold the post and must resign immediately. His statement has blackened the face of democracy."
Ajit Pawar was addressing a public meeting in Indapur tehsil in Pune district on Saturday. Referring to Deshmukh's ongoing hunger strike, he said, "He is on fast for the last 55 days. If there is no water in the dam, how can we release it? Should we urinate into it? If there is no water to drink, even urination is not possible."
The farmer claimed that so far, 6-7 people committed suicide because there is no water in the Ujni dam (where the farmers get water from for their crops in Solapur). "Recently, a farmer died inside a dry well. He had gone inside the well in search of water. He himself had not had any water for two days because of which he fainted and later, died," Deshmukh said, adding that there have has been 4-5 similar cases reported.
Water from Ujni dam can be diverted only if the water level is hundred percent. But what has been happening for the past six months is that the water has been diverted to Shina Mhada Bogda, another taluka within Solapur which is 21 kilometres from Ujni dam. "This water that is diverted is basically used by sugar and alcohol distilleries put up by NCP MLAs in the region," Deshmukh alleged.
He further said that the fasting farmers had met the chief minister along with two MLAs from Solapur after which the CM had directed the Pune district commissioner to release some water from the area towards Ujni dam. But even 15 days later, there has been no change in the situation.
@scribeashutosh