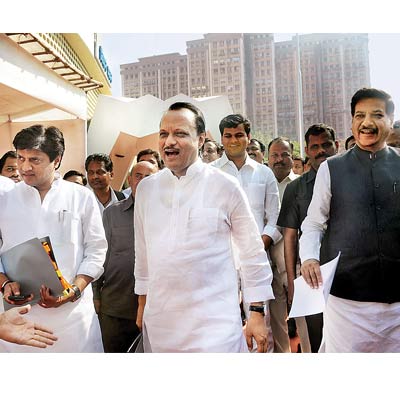 Painting a not-so-rosy picture of the state economy, which has been affected by the global recession, deputy chief minister and finance minister Ajit Pawar presented a revenue deficit interim budget on Tuesday.
The interim budget is meant to obtain a vote-on-account to meet the state government's current expenditure for the first four months of the next financial year. An additional budget will be presented after the Lok Sabha elections.
"The global recession has affected the economic situation in the country and in the state. This has had some impact on the resources of the state. In spite of these constraints, I have tried to keep substantial funds for the schemes meant for the farmers, landless labourers, women, minorities and other socio-economically distressed citizens of the state," said Pawar. He claimed that the state led others in terms of attracting foreign investors.
"The interim budget of 2014-15 indicates revenue receipts of Rs1,69,907.55crore and revenue expenditure of Rs1,75,324.83 crore. The revenue deficit will be Rs5,417.28 crore.
"We had expected a small revenue surplus in the year 2013-14. Though we have achieved our revenue targets, we have had to incur very heavy expenditures for natural calamity relief, electricity bill subsidy and such other necessary expenses. As a result, the revenue surplus has become a revenue deficit of Rs3017.23 crore. Further, the decisions taken this year such as electricity bill subsidy etc. will also lead to a substantial increase in revenue expenditure in 2014-15 also, leading to a revenue deficit situation. We have been successful in keeping a revenue surplus budget for the year 2012-13. However, a revenue deficit looks imminent in the light of a slowing economy and increasing demand for public expenditure," said Pawar.
Speaking to the media later, Pawar said they expected the revenue to increase by 8% this year but added that though revenue targets for the present fiscal could be met, they were not likely to get excess income.
He pointed to how Maharashtra had faced drought, excessive rainfall and hailstorms within a year and said the state would help the affected.
"In the 2014-15 financial year, almost four months will be spent in the code of conduct... my estimate is that the deficit will come down eventually," Pawar said, adding that the state's debt burden was within limits and much lighter than during the tenure of the erstwhile Shiv Sena and BJP regime.
Chief minister Prithviraj Chavan lauded the decision to subsidise the state power distribution utility to slash electricity tariffs by 20% and said it would help ensure that industries in Maharashtra would stay competitive.
In his speech, Pawar said Maharashtra lead in terms of industrial investment proposals submitted to the Centre and attracting maximum foreign investment.
"In 2013-14, we have given approval to 25 new mega projects with an investment of Rs9,725 crore. A provision of Rs2,500 crore has been proposed for the implementation of the industrial incentives scheme," he added, while also listing outlays for the National Food Security Scheme, NREGA and housing schemes for the poor and weaker sections.
He referred to the Metro railway projects in Mumbai, Pune and Nagpur.
Pawar said during the 15 years that the Congress-NCP had been in power, the per capita annual income had risen from Rs24,035 to Rs1,05,493, energy production from 64,138 million KW/Hour to 89,465 million KW/Hour and literacy climbed from 76.9% to 82.9%. The birth rate declined from 21 to 16.7, the death rate from 7.5 to 6.3 and infant mortality rate to 25 from 48.
Pawar pointed to how economically disadvantaged patients were covered under the Rajiv Gandhi Jeevandayee Arogya Yojana, which has been extended to cover the entire state from November 2013 and also referred to the emergency medical services scheme.
An outlay of Rs8,215.70 crore has been proposed for irrigation projects being implemented by the water resources department to create 1.25 lakh hectares of irrigation potential and about 1,000 million cubic meters of water storage. It will also provide financial assistance to the persons who have daughters of marriageable age, having deposits in the cooperative credit societies which are in financial crisis.