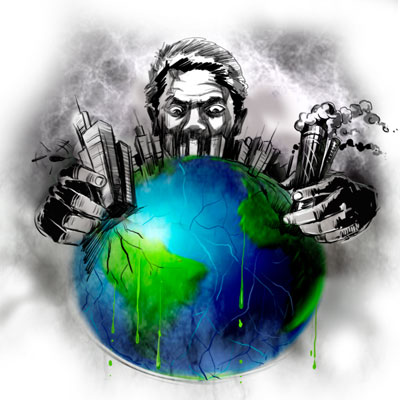 (Don't) take a deep breath, brace yourself. The air we breathe is becoming more and more polluted and that too quite fast given the rising number of construction projects and vehicles on roads.
The latest Environment Status Report of Greater Mumbai 2012-13 observes that with widespread construction activities and increasing number of vehicles, suspended particulates in the ambient air exceed the air quality standards set by Central Pollution Control Board (CPCB).
The report, prepared by the municipal corporation, also suggests that the contamination level found in the water supplied to the city too has gone up, by 19%. Noise pollution has exceeded the prescribed CPCB standards all over the city. And the irony is that the highest noise levels, especially during evening and night, have been recorded in silence zones.
While we categorise the types of pollution as air, water and noise, the major sources of pollution in Mumbai can be categorised as industrial, transport and domestic. The city is also facing another serious and emerging health hazard — asthma. Besides the known reasons causing the illness, aspergillus fungus from pigeon droppings is the latest addition.
In the report, chief scientist and head of National Environmental Engineering Research Institute Rakesh Kumar has written that rapid population growth has contributed to some serious environmental problems in Mumbai. "Some of the areas have population densities of around 46,000 per sqkm (among the highest in the world), which have adversely affected the basic life-sustaining resources, water and air," he observes.
Kumar further notes that some of the major concerns of the city are the non-availability of a sewer system in slum areas and absence of treatment of waste water flowing in storm water drains. Mumbai is facing a catastrophic situation when it looks at the total waste generated and its management.
Kumar also says that coasts, rivers and creeks are subjected to degradation. On the one hand, authorities show their wish to save mangroves and, on the other, mangroves are expanding in creeks/creeklet regions due to illegal disposal of silt. This hampers the water-carrying capacity of water bodies leading to ecological damage," says Kumar.
The report is based on the regular monitoring and evaluation of the ambient air through six receptor-oriented monitoring sites — Worli, Khar, Andheri, Bhandup, Borivli and Maravali (Chembur) — and states that level of air pollutants in the city is alarmingly high.
Sulphur dioxide, ammonia and suspended particulates in the air are higher that the CPCB standards across the city leading to air pollution posing serious health concerns. Chembur shows the highest level of pollution, followed by Khar, Andheri and Bhandup.
Maravali shows harmful pollution standard index (PSI) throughout the year except in August, September and October. No other sites show harmful PSI during the year, however, unsatisfactory index is indicated during winter.
As per the report, while 60% of Mumbai resides in slums, slum sanitation programme works at a snail's pace. Creeks and coastlines are deteriorating due to littering and garbage, and open defecation and waste water discharge are rampant.
It also highlights that irregular hours of water supply is the root cause of contamination due to the ingress of foul water during non-supply hours through joints. Old corroded water pipelines and illegal connections to the main pipelines, faulty fittings, and redundant connections are the other major reasons for contamination.
Listing the multiple problems the metropolis is facing, the report particularly draws attention to inadequate sewage treatment facilities, rapid disappearance of open spaces, increasing number of automobiles and subsequent air pollution, accumulation of garbage in bylanes, contamination of water, and littered and polluted beaches and beach waters.
WATER CONTAMINATION
It has been observed that water contamination is high during the monsoon. The contamination level, generally bacterial, found in water supplied to the city during 2012-13 has been recorded between 14% and 42%. Waterborne diseases, such as gastroenteritis, typhoid and hepatitis (A and E) are recorded in the city every year. A maximum numbers of cases of water contamination are found in areas between Marine Lines and Charni Road (C ward — 42%) followed by Goregaon (P-south — 31%), while a minimum percentage of contaminated samples were from Malad (P-north — 14%), followed by Ghatkopar (N-ward — 15%).
Though civic authorities have been taking various measures to reduce contamination, it is difficult for the corporation to control the menace. Consultants and National Environmental Engineering Research Institute have recommended measures for the upgrade of civic laboratories for testing water samples. In almost all civic wards across the city, water contamination has risen since last year. The average water contamination level is 20%.
CLIMATE CHANGE
Human activities are changing the composition as well as behaviour of the atmosphere at an unprecedented rate. The changes contribute to greenhouse gases. Carbon dioxide is the most common and important greenhouse gas, which makes up for more than 99% of the air pollutants. It is estimated that doubling of atmospheric carbon dioxide will cause a temperature rise of nearly three degrees Celsius. Rise in temperature is expected to cause an increase in floods, infectious diseases and waterborne diseases, as well as disrupt the ecosystem.
According to earlier estimates, climate change can cause economic damage of over Rs2 lakh crore to Mumbai. Diseases like malaria, diarrhoea, leptospirosis, etc will spread, resulting in disruption of work, loss of human life, with 40% of the city's population getting affected, and heavy economic losses. Tourism sector too will be affected to some extent.
NOISY SILENCE ZONES
Increasing noise pollution in the city has been affecting the health of citizens. In Mumbai, noise levels have exceeded the prescribed standards of CPCB. Though a stringent law has been formed as per a high court order to curb noise pollution, it has not been implemented properly. Besides silence zones, residential and commercial zones too exceed the limits. During festivals, noise levels are found to be on a rise. Ironically, authorities don't keep a record of noise pollution during these days.
TWO-WHEELERS GALORE
For obvious economic reasons and also for their love for it, Mumbaikars prefers two-wheelers over four-wheelers. Besides being cheaper, they are easy to navigate during traffic jams and easy to park on congested roads.
The transport sector is the major contributor of air pollution in the city, followed by the industrial sector. Mumbai has registered 1,80,441 vehicles between 2012 and 2013, contributing the highest amount of carbon monoxide, suspended particulates, lead, sulphur dioxide, hydrocarbons and oxides of nitrogen, among other pollutants. The total number of vehicles in the city as on March 2013 was 22,08,954.
Suspended particulates from vehicle emissions lead to respiratory problems. Authorities, however, have started various initiatives to control air pollution. CNG and LPG are regarded as clean fuels and used by over 93% of metered taxis and all autorickshaws.
DETERIORATING AIR QUALITY
Concentration levels of air pollutants in the city show mixed observations. While sulphur dioxide and lead are found to be below prescribed standards at all six sites, nitrogen dioxide has exceeded in Khar, Andheri and Maravali (Chembur). Level of ammonia is the highest in Chembur. Suspended particulate levels are high in all six sites.