A new report says technology will significantly change the way we travel in the next decade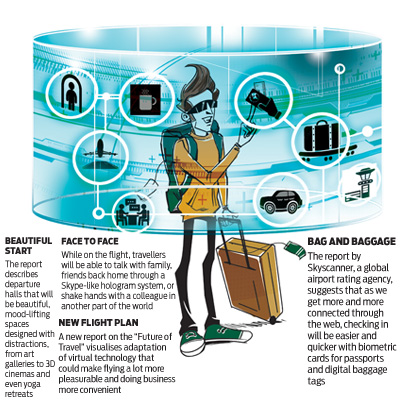 Visualise circa 2024, when on a flight you may be able to use a Skype-style hologram system for 3D conversations with friends and family.
Similarly, business travellers could have sonic disruptors embedded in their seats to prevent fellow travellers listening in to their conversations. Or use haptic gloves that allow you to shake hands with a colleague overseas, stimulating the sensation of touch as it happens.
Haptic technology could allow food lovers and shopaholics to smell, feel and even see the products they want from the comfort of their rooftop pool.
An artificial beach, open air park or museum, could also become a feature at airports across the world.
This is the picture of things to come that will make travel more pleasurable and doing business while flying more convenient in the the next decade, according to a sequel report titled "Future of Travel" by Skyscanner, a global airport rating agency.
"Developments like automated self-service technology, check-in with voice command, laser molecular scanners will characterise the automation of airport infrastructure by 2024, transforming both domestic and international travel. This can already be witnessed with artistic airports coming to life in India," said Kavitha Gnanamurthy senior marketing manager, Skyscanner India.
The report states that passengers could check in and drop off their bags at a favourite cafeteria at the airport as they buy coffee, and use smartphones to monitor queue times to pick the best route through the gates.
As more and more activity goes through the internet, we could see biometric data cards replacing passports and pre-set digital tags for baggage that would enable holiday-goers to track their belongings on the journey.
Skyscanner describes departure halls that will be beautiful, mood-lifting spaces designed with distractions, from art galleries to 3D cinemas, and even yoga retreats. (T2 at Mumbai's Chhatrapati Shivaji International Airport has an art museum that has become a big attraction.)
The agency states that 43 per cent of passengers would love to see an open-air park or beach as part of their airport experience and this could become a reality through wellness hubs accompanied with interactive walls and floors that would transform the shopping and eating experience.
"New haptic technology will allow passengers to smell, feel and see products they want to buy from the comfort of a rooftop pool. 'Phygital' technology (physical and digital retail techniques) means travellers would be able to order goods with a wave of the hand or by a simple verbal command," the report says.
The agency, which talked to 56 trend experts and futurologists in the travel and tech industry, mentioned that Skype-style hologram systems would be available on board, to enable passengers to talk chat with family and friends while flying.
Filip Filipov, Skyscanner's head of B2B, said, "Airports and flights will no longer be the price we pay to travel but instead will signify the start of our holidays where travellers can relax and create the perfect space to suit their needs whether they're flying for business or leisure."