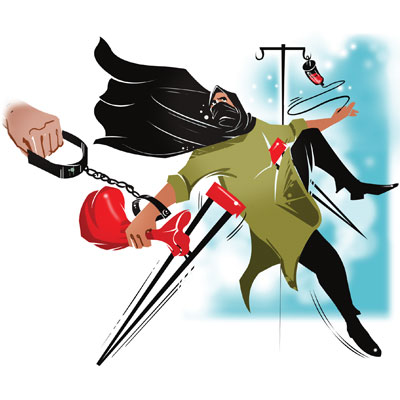 Anyone with injured legs, a damaged kidney and urinary tract would find it tough to make it through the day, leave alone trying to break and enter into houses and offices. But not 24-year-old Uday Patil.
The youth, who was in a train accident in 2008 which left him physically challenged, was caught by the Kandivli police while breaking into an office near Kandivli railway station. Turns out Patil has over ten cases registered against him at several police stations, including Malad and Andheri, over the last few years.
On Thursday, Patil was caught red-handed by the police and booked for four cases of theft. "We had three other complaints from people around that area. In all the cases, the burglary took place between 6am and 7am. We scanned the CCTV footage of the previous three thefts and deployed a team to nab the burglar. We saw Patil breaking into an office building and caught him after he got out with all the cash." Patil stole equipment worth Rs6 lakh from all four office, the police found.
According to the police, Patil resides inside the compound of Cooper Hospital in Juhu, where he has regularly been undergoing treatment following his accident.
"The accused has problems in his legs, kidney and urinary tract. He has an artificial tube inserted in his body to drain urine. He would conduct thefts early in the morning and then use that money for his treatment and livelihood," said Nitin Gije, inspector, Kandivli police station, adding that Patil's problems had made it difficult for him to walk or even stand for too long.
The police also said Patil's family disowned him owing to his criminal record, because of which he would spend most of the time in the hospital premises.
Patil has been arrested under sections 454, 457 and 480 (house break-in, trespass and theft) of the Indian Penal Code. He has been remanded in police custody till April 21. "We suspect he is involved in more thefts. We are questioning him to find out more," added Gije.