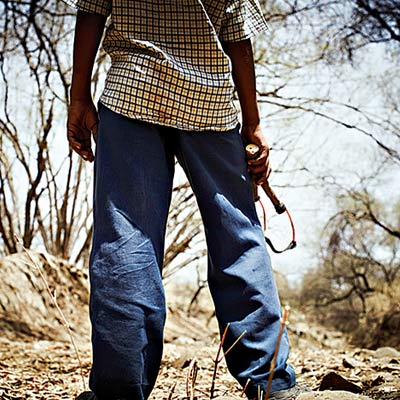 It's a movie which had one of the world's greatest living political film-makers, Costa Gavras, enthralled to a point where he told this newspaper at the Mumbai International Film Festival (MIFF) in November 2013, "I want to see more of Marathi cinema." Not surprising then since its release last Friday, Fandry by Nagraj Manjule is being hailed as one of the most brilliant films of the decade.
But Gavras isn't the only one. Several big names like Shyam Benegal and Amol Palekar too have been more than generous with their praise directly. Others like Atul Kukarni took to twitter to say: "The relevance of the Marathi film Fandry even today is a shame on all of us. But then the best way to overcome shame is to face it. See Fandry."
This Marathi film from the Essel Vision Productions Navalakha Arts and Holy Basil Productions has broken every stereotype of film-making to get applause not only from the festival circuit worldwide but also from all over the nation since it opened in theatres across Bengaluru, Kolkata, Indore, Delhi, Chennai, Hyderabad, Surat and Vadodara outside Maharashtra.
After winning the jury award at the MIFF, Fandry was subsequently picked up by Zee Entertainment for distribution rights in Maharashtra in 152 screens. Vivek Kajaria, who produced the film along with Nilesh Navalakha, said: "Fandry is one of the most awaited films of recent times. Our partnership with Zee (Entertainment) has helped us a lot. We are trying our best to give it a wide release and hoping that the word-of-mouth will help us grow. We are happy that the audiences are responding so well."
The shy, soft-spoken debutante director Nagraj Manjule, who bagged the national award for his short film Pistulya in 2011, explained why despite the build-up given the buzz Fandry was generating internationally the decision not to create blitzkrieg of ads was deliberate. "First of all, we don't have the resources for that. Also, the film brings to fore caste dynamics, which however much we are in denial about as a people, are still a part of our society. Given the subject and the non-glam treatment, the production houses were keen not to go aggressive with a promotional campaign which will take away the film's message and impact."
"This is my first full feature-length film and it draws heavily from my own life. This is not something based simply on a work I've read or heard about. This is the milieu I come from and have seen this side of life, up close. Translating that pain cinematically meant dipping into the reserves of my own humiliating memories of seeing how human beings can be robbed of their dignity by fellow-humans," Manjule told dna.
"This whole journey of making something from my own conviction and seeing it gather accolades, praise and awards from some of the tallest legends in the film fraternity has been both joyous and humbling at the same time. I only hope my film sparks off unease with the status quo and desire to change. That in my opinion is the best tribute to what my team and me have put together in Fandry," he added.