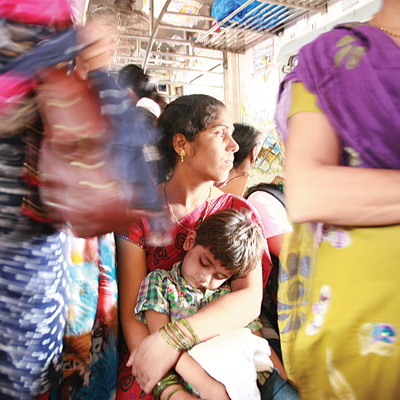 A woman with her four-year-old daughter, had a harrowing day travelling from one end of Mumbai to the other in local trains trying to reach her home. The woman, who is from Allahabad was finally united with her husband after 24 hours, with the help of passengers and GRP officials from Dadar.
Ratan Devi Mishra (24), had come to Mumbai, a month back with her husband RC Mishra. The family lives in a chawl at Ganesh Nagar in Dahisar (E). On Thursday, Ratan Devi along with her daughter, had gone to deliver goods. However, on her way back she got lost. Ratan Devi boarded a train from Dahisar and travelled to Dadar, as someone told her that Ganesh Nagar was in Dadar. Later, when she got down at Dadar, and asked some more passengers about Ganesh Nagar, she was told that it was in Ulhasnagar.
During her commute to Ulhasnagar, she was accompanied by a woman. However, when she reached Ulhasnagar, she could not identify the station. She soon realised that she was at the wrong station. Having no place to go. The woman invited her at her place. The next day Ratan Devi, went back to Dadar in search of her home.
Mexy Xavier, a photo journalist noticed the confused Ratan Devi. Xavier made some inquiries, and realised that the woman was lost. "I got down with her at the Dadar and asked her whereabouts. She told me that she wanted to go to Ganesh Nagar, but failed to tell me the exact location," said Xavier. Xavier then took Ratan devi to RPF officials. She could then recollect Dahisar and they decided to accompanied her to Dahisar station.
The RPF officials, meanwhile, alerted all the other police stations and found out that her husband had registered a missing person complaint with the Dahisar police. The police along with Ratan Devi and Xavier, went to Dahisar police station where she was united with her husband. "I'm thankful the lady, who's house my wife spend the night at, Xavier and the officials, who brought her back home safe and sound," said RC Mishra.