Residents have started widespread protest campaigns against authorities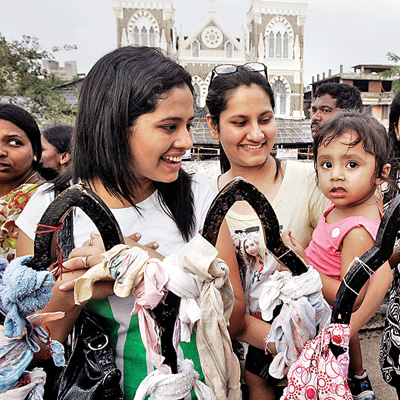 While the residents of Khar struggled fruitlessly since the past one year to evict the night hawkers from Kharie Village, a new headache is looming over the residents of Bandra now, as local politicians are once again planning to occupy lanes for Bandra Fair. Civic officials and police are complacent with local politicians and encourage illegal hawking.
Even as the space for the pitches given to the hawkers is limited to only 190, the politicians in the area, under the guise of helping poor and unemployed, have demanded another 100 – 110 stalls with permission to sell products other than religious items.
After struggling in vain to remove stalls put up during Ramzaan in Khar West, residents of Bandra are up in arms against the civic authorities and the police for allowing more stalls each year in different lanes of the suburb, manipulating the rules. Residents have started campaigns and protests against the unilateral decision taken by the authorities since the past two years.
Residents have started spreading the word by writing open letters to other residents and authorities to express their anger regarding the manner in which the number stalls during the Bandra Fair have been increased by MCGM. Residents feel local politicians do this to appease slum dwellers and also that stalls have been auctioned at locations designated as exit routes by Mumbai Police and roads having less than 8-metre width, contrary to Supreme Court order.
"Letters issued by additional commissioner of police in 2012 to BMC have been ignored. Fire safety measures and compliance reports of Mumbai Fire Brigade on public roads are ignored. Such lawlessness by any elected representative will not be tolerated by residents," said a protesting resident.
Legalising unauthorised stalls will ensure that existing problems become permanent at those locations besides sending security arrangements made by Mumbai Police for a toss. As the 100 pitches requested could not be accommodated on Mt Mary Road, the balance 50 stalls were placed on Kane Road where no stalls were put up before, increasing the territory.
Residents fear that in 2012 it was Kane Road and now it could be any other road. "Band stand, Mehboob Studio Junction, Pereira Rd, St Sebastian Rd, Tertullian Rd and Hill Road are all in the vicinity of fair and can be notified under politician's new self made policy to generate revenue for the Corporation", said an activist.
Prashant Sapkale, assistant commissioner for the H – West ward did not pick up our calls. However, Sachin Sankhe from the license department of the H- west ward said that the ward office is yet to start the process of registering the claimants of the 300 odd stalls. "We will start the process after August 15 as the hawkers' registration exercise if going on. While allotting the stalls, we will ensure that no traffic or pedestrian movement is disturbed," said Sankhe.