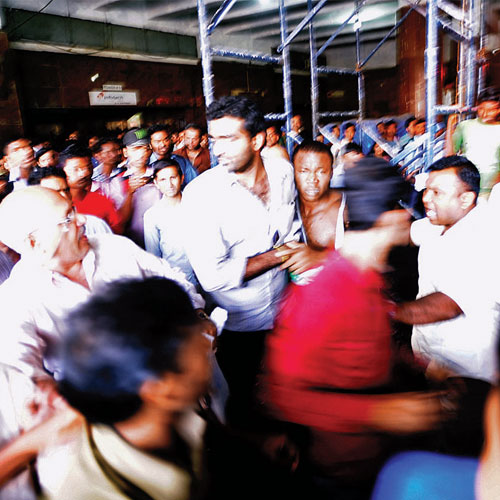 A 28-year-old Nigerian was attacked by a mob at Vashi railway station, after he allegedly assaulted a shoeshine vendor for Rs5 on Monday afternoon.
The Nigerian, Wonuwaha William Lucky, who stays in Andheri Link Road, was in Navi Mumbai for selling garments on Monday and was returning home around 2.30pm. He got his shoes polished near the station and and gave Rs5 to the cobbler, Sheshrao Purbe.
Purbe, however, demanded Rs10 from Lucky, but the African national was not ready to pay an extra Rs5.
This led to a ruckus between the two and Lucky allegedly assaulted the cobbler. "A number of people who had been watching the episode till then, surrounded Lucky and started beating him. A scared Lucky then realised that the situation was not in his favour and tried to flee the spot by running towards the platforms. The angry crowd, however, stopped him and tore his shirt," said Ramesh More, assistant police inspector from Vashi police station.
KK Chowdhary, a photographer with a national daily, who was passing by, stopped there and shot a few photographs of the attack. As soon as he attracted the attention of the crowd, some of them approached him and attacked him too. The mob tried to bust his camera by snatching it from him, but did not succeed. "The camera was partially damaged in the attack," More said.
A few onlookers, meanwhile, informed the police, who reached the spot after a few minutes. "We detained Lucky from the spot and later arrested him. He has been booked under sections 325, 323 and 504 of the Indian Penal Code and was produced before the judicial court on Tuesday evening," he said.
According to the investigating officers, Lucky has been staying in Mumbai for the past several months with some of his business partner and has all the required documents for staying in India.
When asked about the action taken to zero in on the culprits who attacked Choudhary, More said, "We have got some pictures of the mob and of those who attacked the photographer. However, we are not sure whether they are from Navi Mumbai or from somewhere else. We have registered a non-cognisible offense against the attackers and hope to get hold of them within a short span of time. Our investigations are on."