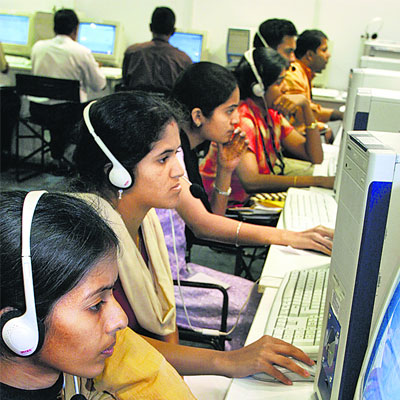 Nasscom may have cut guidance for domestic business process outsourcing sector to 9-12% but Essar-promoted Aegis BPO is gung-ho about a 5% increase in its India business in the next fiscal to 13-18%, from 9-10% last year.
Sandip Sen, global CEO, Aegis, said, "A large number of outsourcing is happening in the financial services space in India because there is a stress towards financial inclusion. The government wants to open 200-300 million bank accounts and the public sector banks which have started outsourcing a year ago have surprised us with the amount of outsourcing business."
Bank of Baroda was the first to partner with Aegis, followed by Union Bank of India and Bank of India. The BPO firm won a contract 10 days back from Punjab National Bank, for which it will be opening a 1,200 seat delivery centre in Bhopal and Gurgaon.
Two-three more public sector bank partnerships are in the offing.
Sen said, "The way you saw telecom growing 3-4 years back, you will see banking, financial services and insurance (BFSI) growing in India. This year in India, we also see promising business from government, healthcare and education."
BFSI is now number two in contribution of revenues for Aegis, after telecom, from number four earlier. "This makes us confident of hiring 4,500 people in India this year out of 8,500-9,000 globally. This year, global revenues was $1 billion, India was 11% of that," said Sen.
Aegis is also looking at three acquisitions this year – in Malaysia, UK and Brazil.
"We just made an acquisition in Malaysia recently which is expected to close within the next 30 days," said Sen.
Aegis is also looking to supplement its existing delivery centre in Manchester, UK, which currently staffs 500 people, with another tuck-in (small) acquisition of a UK-based BPO in Ireland or Scotland within the next 4-5 months with around 1,500 employees. Europe may also be next in the line for acquisition, to strengthen Aegis's foothold in this region.
The third acquisition Aegis is looking at this year is in Brazil for complementing its operations in Latin America, where it has the largest BPO presence among Indian firms with 7,000 employees in delivery centres between Argentina, Peru and Costa Rica.
Aegis is also looking for an anchor client to expand in Africa, especially South Africa, which holds opportunities for the company in terms of local and UK businesses.