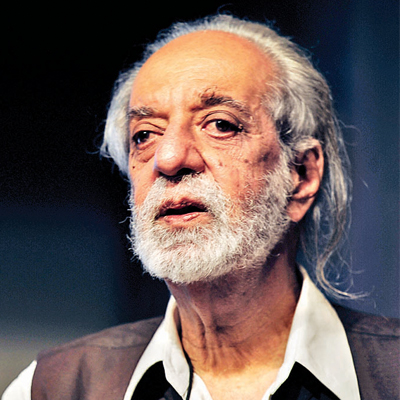 He's one of India's best poets, but that doesn't mean Adil Jussawalla's brilliance at prose can ever be compared. Like his complex ironic poetry filled with contradictions and humour, his prose makes you laugh and ponder. The poet read out from his latest Aleph publication - Maps for a Mortal Moon: Essays and Entertainments edited and introduced by Jerry Pinto at a special event organised by Literature Live.
The book, which is a compilation of various columns and prose pieces written by Jussawalla for several magazines and newspapers over 40 years brings together the best of the poet's prose. In his signature style Pinto, who was in conversation with Jussawalla on stage said, "All those who have Adil Jussawalla scrapbooks should not think this book is not for them. Its got some of his fresh work too."
Jussawalla floored the audience when he read out the title piece Maps for Mortal Moon.
The piece, which begins at the Asiatic Library with Jussawalla and other legends like Kolhatkar discussing Sumarian Art and moves to an outlet where they stop for chai and fries. He compares the hordes coming out of the World Social Forum being held in Goregaon with characters from V Shantaram's Jhanak Jhanak Payal Baaje. As he moves to Kala Ghoda, he finds himself in a sea of khaki and safron flags as Shiv Sena chief Uddhav Thackeray, is at his exhibition of aerial photographs in a gallery where on the first floor an artiste born in 1974, had announced that she graduated in 1958. "I wonder how many centuries I'd travelled," he observed to much mirth and applause.
And yet for all this brilliant work, the book almost didn't get published in its first attempt when its earlier publisher lost the manuscript. "I am glad that everybody is happy that these writings are out in a book form, but I was already quite happy with the feedback I'd gotten for them when they were originally published," said the poet.
When Pinto asked him whether editors nudge him to write on certain topical issues or current news. "Sometimes I did, but most of the times, I had the freedom to write exactly what I want," replied Jussawalla, who quickly added, "Some of them of course told me to trim the fantasy, a bit." That left everyone in splits.
Pinto's introduction to the book, says, "He seems to be the poet of the synapse, the prose stylist at the fissure…The film you saw illuminates the book you read. The moment in the park 20 years ago can be used to talk about the decline of a city. We do this all the time, all of us, but few so effectively as Jussawalla… It seems as if Jussawalla was not the missing person of his most famous poem; he was the alien observer whose gaze was always disconcerting the object."
All the more reason why this book is a must-have.
The 80-odd essays deal with other writers, book fairs, flying model planes as a little boy, watching a sandstorm from a ship waiting at Aden (written when he was only 16), or witch-hunting in a slum in Nagpur.