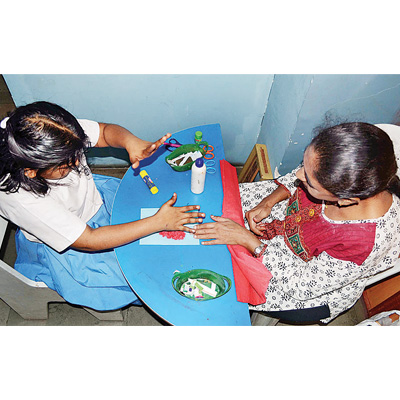 While the numbers of children with learning disability (LD), autism and cerebral palsy are increasing every year in India, the number of genuine remedial educators, psychologists and counselors are dismally low. According to the city experts, many people are claiming to be counselors and special educators but are not recognised by Rehabilitation Council of India (RCI).
When parents take their children to certified experts, they do not have any past reports or diagnostic records. That is when these experts realise that the parents had previously taken their child to an non-recognised 'specialist'.
One of the role of RCI is to give license to professionally qualified candidates and standardise the training courses for various categories. The council keeps on modifying/revising the existing syllabus and adopts new training programmes incorporating developments. On acquiring RCI license, one is authorised to give rehabilitation to people with special needs etc.
Kate Currawalla, president and founder of Maharashtra Dyslexia Association, said, "More children are identified or diagnosed with LD, autism, cerebral palsy etc every year and the number of experts to help them are not enough. It has also been found that many have started giving rehabilitation, remedial education to these kids despite of not having RCI registration number."
Dr. Samir Dalwai, developmental pediatrician and founder of New Horizons Child Development Centre (NHCDC), said, "It is essential that we keep our documentation up-to-date. Parents need to ascertain the qualification and accreditation of the person or institution they approach. Professionals in the field of rehab should clearly display their name and qualification and registration number at their office and on their reports. Parents must insist on written reports whenever they consult anyone and must ask for revaluation every few months during therapy. Often we see children who have had intervention for years but have never been given a single report of what was done."
The requirement of experts are so high that many institutes have started giving courses for remedial educators, psychologist or counselors, but the question arises whether they have RCI license to run those courses. Around 60,000 candidates are registered across India with RCI according to my knowledge that includes all rehab experts.
Experts are going abroad for rehabilitation work where there is more demand and are paid better.