Punewar presents herself before Chennai police with boyfriend in tow.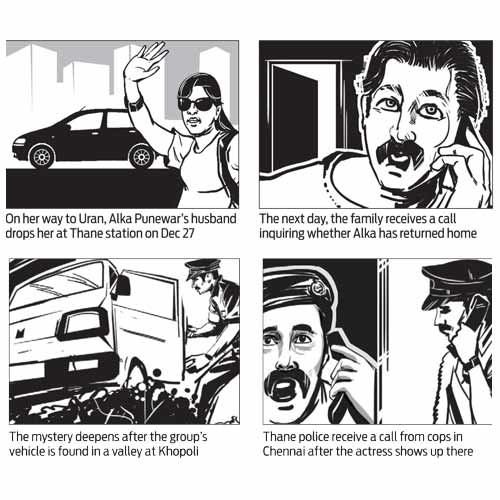 Alka Punewar, the Marathi actress who went missing ten days ago, was found by the police in Chennai on Monday.
Balasaheb Patil, deputy commissioner of police in Thane, said he was informed on Monday afternoon that Punewar along with one Alok Paliwal presented themselves before the Vepery police in central Chennai.
The police learned during investigations that the 45-year-old actress was apparently in a relationship with Paliwal, 29, who lives in Panvel. The actress is married to Sanjay Punewar and they have two sons. Alka also has a daughter from a previous marriage.
"A police team will go to Chennai and bring them back by tomorrow," Patil said. The police official said an appropriate case would be registered after questioning the two.
On December 27, Punewar's husband dropped her at Thane railway station from where she was to go to travel to Uran for a stage show by her group transport.
The following day, her family received a call asking whether she had returned home as she had left the group after a heated argument and that she was not answering her phone. The family reported the matter to the police in Khopri where they live.
The mystery deepened when the mangled remains of the group's vehicle was found in a valley by police in Khopoli. A bag and a phone belonging to the actress was found near the spot, but the car doors were locked, the seat belts open and there was no trace of a body or any blood.
"It seems she was in love with Paliwal. The two met on a social networking web site and they had been meeting each other regularly for 18 months," Patil said.
The police have learned that Paliwal is an engineering graduate from Ghaziabad, but is unemployed.
The police official said Sanjay Sonkar, a friend of Paliwal, apparently helped the two to push the vehicle into the valley. Sonkar has been detained by the Mumbai police.
Alka's husband Sanjay was shocked. "I never stopped her from pursuing her acting and did not restrict her from going anywhere. In fact, I encouraged her. We had a good relationship. I had no clue. I don't know how I will face the children," the husband said.
Himanshu Roy, joint commissioner of police, crime, said Sonkar and Paliwal tried to make it out as if the actress had been kidnapped. "She was not kidnapped, but disappeared along with Paliwal, her close friend. They put up this act as the actress wanted to get away from her husband," Roy said.