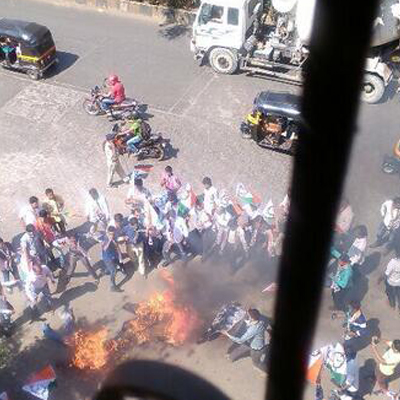 The Aam Aadmi Party office in suburban Andheri was today allegedly vandalised by a group of some 20-25 persons with the party claiming that the attack was the handiwork of the Nationalist Congress Party (NCP).
"AAP Maharashtra office attacked by NCP goons," AAP said in a tweet.
AAP Mumbai office attacked by NCP goons. Took out AK's posters and burnt it on the road. #ScaredOfAAP @AAPMumbai pic.twitter.com/QCZzjLv8F5

— Aam Aadmi Party (@AamAadmiParty) February 22, 2014
According to AAP volunteer Paritosh, the vandals entered the second floor of their office located at Chakala in Andheri and tore up and burnt the poster of AAP leader Arivind Kejriwal.
The vandals threw black ink bottles all over the office and damaged party banners, he said, adding that the attackers also used filthy language and shouted slogans.
"Police had to intervene and take them away," said Paritosh.
AAP will file an FIR in connection with the attack and also submit with police the CCTV footage at its office, he added.
Police sources said that the group entered the AAP office at around 2:30 P.M.
Meanwhile, NCP spokesperson Nawab Malik told PTI that they were "seeking the details of the incident".
The alleged attack comes two days after AAP leader Anjali Damania attacked Maharashtra Deputy Chief Minister Ajit Pawar saying that Mumbaikars were paying high electricity bills due to corruption and the inefficiency of the state power ministry and the distribution companies.
"In the past three years, due to corruption, mismanagement and inefficiency of the state power department, Maharashtra has incurred losses of up to Rs 22,000 crore," the AAP leader had alleged.
After the attack, AAP release this press release:
NCP goons attacks AAP Office
At about 2.23pm today, NCP goons led by Amol Matele NCP Youth President attacked the Aam Aadmi Party Maharashtra State Office in Andheri, Mumbai. They arrived in a truck, and got out a effigy which they burned in front of the office; the address is 2nd Floor, Vishwananak B Wing (Sangeeta Apartments), Gurunanak Wadi, Opposite Hindustan Lever, Hargovindji Marg, Chakala Naka, Andheri East, Mumbai 400099. Some NCP goons stormed up the stairs and grabbed a cut out of Arvind Kejriwal which they added to the fire. They blasted the office with balloons full of black paint and shouted slogans using despicable language against AAP. They also chanted slogans pro Ajit Pawar.
They were then about to mount another attack on the office when they were stopped by the security. It is shocking that police which was in the vicinity did not stop them until they had finished their entire act of vandalism and only stopped them when they tried to enter the office. The detained person were taken to Andheri East Police station. AAP told the police that is up to the police to file complaints against such miscreants and file charges; AAP will not be interested in filing any complaint. Instead, AAP chose the path of Ahimsa and forgiveness and AAP volunteers headed to the nearest NCP office to sweep the dirt away with brooms in order to help the misguided NCP followers clear the cobwebs of obfuscation from their minds. However, Mayank Gandhi was detained on his way to the NCP office and is now at the MIDC Police Station Andheri.
It is a sad state of affairs for Maharashtra that the police turns a blind eye to miscreants who are burning effigies (as can be seen in the photographs) but stops a citizen from sweeping the streets to create awareness.
The reason behind this is the huge fear across parties is AAP's growing popularity. On 19th February AAP had a successfully rally in Mumbai and the support for AAP has stuck terror in the hearts of the existing political class; seeped in dynastic politics, corruption, crony capitalism all the 5 parties have failed to bring any solace to the citizens. On 20th Anjali Damania exposed a 22000 crore scam in the Power sector, a portfolio help by NCP's Deputy CM Ajit Pawar. Anjali Damania and Vijay Pandhare of AAP are also the whistle blowers of the 70000 crore irrigation scam by NCP in collusion with the BJP. After this expose Nawab Mallick and Jitendra Awhad of the NCP started a slew of lies against AAP leaders Anjali Damania. They made completely ridiculous allegations claiming Yogendra Yadav & Mayank Gandhi held a meeting with builders in the city and sold 1 lakh square feet of land! He then alleged the Mayank recently visited Singapore in the company of some person who incidentally died three years back. He also alleged that Anjali stole land without a single proof and went on to make completely unfounded allegations on her husband's alleged involvement in some scam!
AAP finds it very unbelievable that responsible channels and publications broadcast these lies without even an attempt at clarification. We think that if this kind of irresponsible behavior continues we will have to take recourse to legal action against all those who spread baseless falsehoods.
We can expect nothing more except lies and violence from the current political class, but we will continue undeterred on our path to bring about a complete change.
CCTV Footage of NCPGoon taking Arvind Kejriwal's cut out from AAP Office