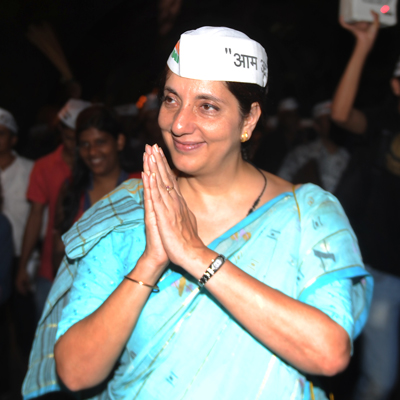 The prospect of getting the ubiquitous cap one sees in the Aam Aadmi Party (AAP) rallies excited many youngsters. On Thursday, March 27, Meera Sanyal, the party's candidate from South Mumbai constituency, was happier to place some on their heads while she conducted a padyatra in the Lower Parel-Chinchpokli belt to meet her voters.
"Wear it till the elections are over," she said to 18 year old Arun Shirke, who agreed with a grin as she placed one on his head. A resident of Arthur Road Naka, Shirke seemed to be an AAP fan for the trend the Gandhi topi was setting and the dream of a better future the party was giving to him and youngsters who were standing around him.
"I believe they are good and they will do some good for our country," said the 11th standard student.
While Shirke was looking to have a cap placed on his head, as the rally progressed, it received different kinds of reaction from people when it sought a vote on issues of removing corruption and giving citizens another chance for clean politics. The area that is known to be a bastion for the regional instinct it harbours, had curious glances and blank stares in response to the brief speech and popular patriotic Bollywood numbers played.
"None of the party has done anything for you. We will remove corruption," said one of the 30 odd supporters in Marathi, who walked with Sanyal, living in 144 BMC tenements on Sane Guruji Marg.
To ensure that Sanyal can better reach out to as many people, those along with her speak in Gujarati as well. At one place they raised the issue of the housing of 5,500 safai kamgars.
However, at no place did the candidate promise anything. "We have not promised anything nor will we. If there are issues, we take them and prepare a data base of what needs to be done," said Sanyal who is contesting here for the second time.
Meena Thakkar, 53 year old home maker, is one person to whom she just listens. Though Sanyal's supporters tell Thakker that they will take up the issue once the poll is over, she does not promise anything. "We need to understand them first," she said.
The party, Sanyal said, was conducting 'swaraj baithaks' and preparing an application that will help put in place issues of various areas. "We will use this post elections," she added. What gave a kick to Sanyal the most was appreciation from people like Thakker who said that they were the first to campaign in the area.
However, there were some like Parasmal Jain, a shop owner in NM Joshi Marg, who believes that a stronger government at the centre is needed.
The candidate who polled around 10,000 votes the last time is more confident this time around and said she respected the different opinions. "This time I have more people even in my yatras. With respect to blank stares from people, you have to accept that it is a democracy and respect people's choices. But we will ask for votes," she said.