Activist says start of eviction process made him file RTI plea that unearthed the scam.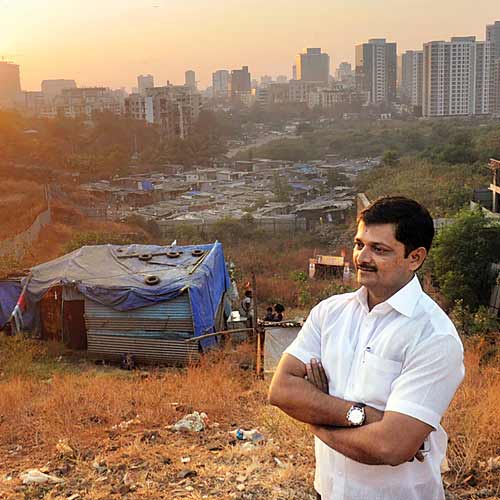 The case of two reserved plots allotted to BAG Films Education Society (BFES), controlled by Anuradha Prasad, wife of Union minister Rajiv Shukla, is an example of how an ordinary man used the Right to Information Act tool and unearthed a scam.
Ajay Yadav, a resident of Yadav Nagar and RTI activist, who first sought all the documents from various departments concerned with the plots in Jogeshwari and Andheri in July 2009, said that had the collector's office allowed 61 hutments, located on the Jogeshwari plot, to be a part of an SRA scheme, he (Yadav) wouldn't have got wind of the scam.
Two prime plots — one admeasuring 2,821 sqmt and reserved for a municipal primary school in Ambivali, Jogeshwari (West) and the other one 3,534.70 sqmt reserved for a playground in Andheri (West) — were given by then chief minister Vilasrao Deshmukh to BFES, a trust controlled by Prasad. At the time of allotment, Shukla was the trust's secretary, but he resigned in 2008.
The plots, which cost over Rs100 crore as per current market rates, were given to the trust for a measly Rs1 lakh after then municipal commissioner Jairaj Phatak gave an NoC to the state revenue department.
Despite 61 hutments being on the Jogeshwari plot, the collector's office allotted it to BFES, terming it encroachment-free. "They needed to show the plots as vacant to make the allotment possible. We weren't against them and would have left the plot soon anyway but, in their greed, they were hell-bent on getting us evicted," said Yadav.
"Our SRA scheme was floated in 2006 and BFES was allotted the plot in 2008. The SRA office had even carried out a survey and prepared a draft annexure. But the collector's office refused to listen to us. Finally, we had to use RTI and the details unearthed were even more shocking. The plots were reserved..."
Yadav said BFES would have easily got the Andheri plot and even the state government wouldn't have got caught in controversy had they not started evicting the 61 hutments' dwellers. That (eviction process) is what got all the officials in trouble as many dwellers had documents proving their hutments existed before 1995, he added.
Shukla has written to chief minister Prithviraj Chavan saying he wants to give back both the plots to the government.