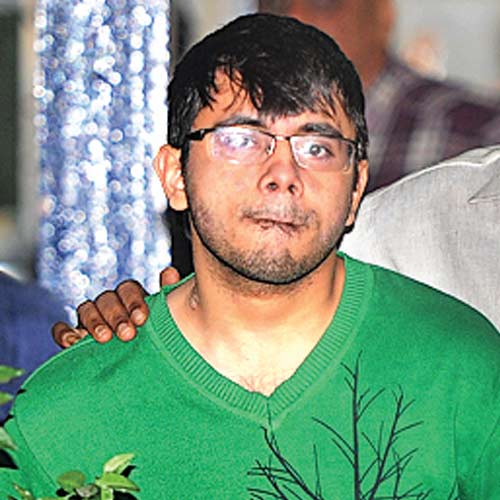 Almost a year after Sandhya Singh, sister of yesteryear actress Vijeta Pandit, was last seen outside a bank in Navi Mumbai, the police on Monday arrested her son.
Singh's son lodged a missing complaint on December 13, 2012. Almost two months later, her skeletal remains were found from the Seawoods area in Navi Mumbai. And the police started treating it as a murder case.
Officers at the Chembur unit of the crime branch arrested 23-year-old Raghuveer in connection with Singh's murder after he surrendered at the police station around 3pm on Monday.
Discrepancies in his statements raised the police's suspicion and they were on the lookout for him for the past several days.
Earlier this month, the Supreme Court rejected his anticipatory bail plea. Raghuveer's father Jaiprakash, a senior customs department officer in Indore, too, visited the crime branch office in Chembur on Monday, along with his brother and lawyer.
"Raghuveer will be produced in a Belapur court on Tuesday. His custodial interrogation is necessary because we have found several contradictions in his statements," Himanshu Roy, joint commissioner of police, crime, said.
Another officer said these discrepancies led them to suspect that Raghuveer had a role in his mother's murder. "He told us that he had an argument with his mother on December 13, 2012, when she was going to a bank to deposit some jewellery. He claimed somebody kidnapped her for the jewellery and later killed her," the officer said.
"We found during investigation she never visited any bank. A person named Uma Gaur, whom Singh knew, saw her outside a bank. But she never entered the bank. Even bank officials corroborated the fact."
Raghuveer claimed she had almost 2.5kg of jewellery worth Rs2.50crore.
"She was very weak, physically. Why would she take the risk of going to the bank with so much gold? Also, Raghuveer's description of the bag, in which the jewellery was kept, did not match with that of the witnesses," the officer said.
Raghuveer told the police that his mother was supposed to visit her uncle in Juhu after going to the bank. This too, said the officer, was false information given by Raghuveer. "Singh's uncle told us whenever she visited him, she would make it a point to inform him beforehand so that he could arrange for a vehicle to pick her up," he said. "But she never contacted him before disappearing."
"Raghuveer told his aunt that his mother withdrew Rs80,000 from the bank. But the bank said she did not withdraw any money," the officer said. "Her family took several months to describe the jewellery that they claimed were with her when she went missing," another crime branch officer said. "But at least 90% of the jewellery was found intact in a locker. She was wearing jewellery worth Rs25lakh at the time of disappearance... they are still missing."