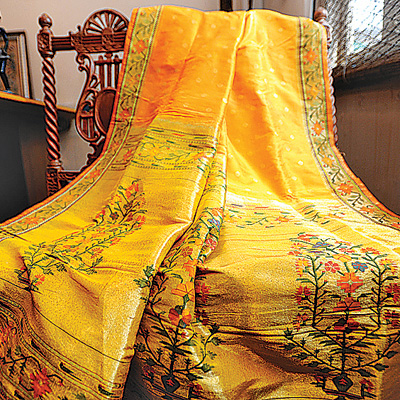 A tourism centre was inaugurated in Yeola in Nashik district on Friday (Aug 22) to showcase the traditional Paithani art and craft. The Paithani Tourism Centre at Yeola is an initiative of the state tourism dept.
There is an increasing demand for the traditional weave, texture and design that make a Paithani, and a lot of people come to Yeola to buy Paithani textile. It's with the aim of promoting this tradition textile form that the tourism centre was set up.
It aims at facilitating consumers and ensuring appropriate returns for the weavers.
The centre at Angangaon in Yeola industrial estate was inaugurated by film star Shridevi and her husband, director producer Bonney Kapoor, in the presence of minister for tourism Chaggan Bhujbal and other dignitaries.
The centre will showcase the journey of Paithani from the thread to the six/nine-yard (saree) and other products. It will also explain to visitors the modalities of hand weaving, design patterns and demonstrate how the clothe is actually made. All aspects of marketing the finished products would also be explained.
The Yeola Paithani Tourism Centre, spread over 20,000 sq ft, has a Paithani manufacturing information section and a sales counter that will sell finished products made by local artisans in Yeola. Visitors can also see the Paithani training centre and the exhibition hall where Paithani clothes and Jardosi work would be on display.
Speaking on the occasion, Chaggan Bhujbal said the centre would attract visitors from all over the country and would immensely benefit local artisans.
Speaking to dna about the centre, a local artisan of Paithani from Yeola, Pravin Phelwan, said: "Paithani is being handwoven in my house since hundreds of years. There are many artisans in Yeola who carry on this traditional art of weaving. However, in the recent past, though it's said the demand for Paithani has gone up, the life of local artisans, who actually weave the six/nine-yard (saree) putting in a lot of effort, isn't flourishing. This is because traders bring machine-made products from other states and sell it here as products from Yeola. They are cheating the customers as well as ruining traditional weavers. The tourism centre has brought a lot of hope for people like me as we now have a platform to sell genuine products."
The tourism dept now has plans to set up a Paithani cluster in Yeola with adequate facilities to help the local (traditional) industry.