Maharashtrians shine like sonpatta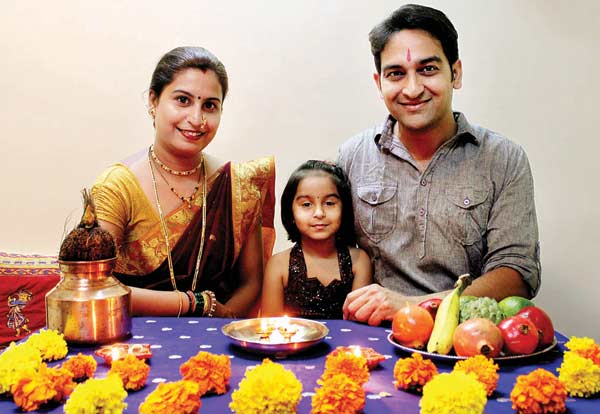 The Kashikar family celebrates Dussehra by dressing up in their best and worshipping regular household items

Sona ghya, sonasarkha waga (take gold and be like gold). Apta leaves, also known as Sonpatta or aptyachi paan, are plucked from the Shami tree and are believed to bring happiness and prosperity into the receiver's life. During Dussehra, Maharashtrians greet each other and wish them this to spread goodwill.
Airoli resident Sunita Shinde said, "Before entering the court of king Virat to spend the last year of the exile incognito, Pandavas hung their weapons on a Shami tree. On returning after a year on Dussehra, they were happy to find all the weapons and thus worshipped the tree for keeping everything safe. Since then, the tree and its leaves have become a symbol of goodwill and victory."
"When one visits friends and family members on this day, he hands them all an apta leaf, which is likened to gold. It is an opportunity to get together; exchanging leaves and erasing any ill feelings that they may have harboured against other person," said Rachna Kashikar, a resident of Vashi.
The first day of Navratri is called Ghatasthapna. On this day, Maharashtrians place a pot or a kalash with coconut and mango leaves covering its mouth. The kalash is then filled with water, dhurva grass, coins, rice and supari (betel nut). The entire arrangement is then placed on top of a wide clay pot, where a layer of soil is spread and sapta dhanya or seven types of seeds are sown.
By Dussehra, these seeds germinate, and the soil turns into a green bed of grass.
"Dussehra is the day when we remove the ghat. It is believed that the goddess herself resides in the kalash during these nine days. All the items of the ghat are then immersed in water," Kashikar said.
Household utilities, like electronic goods, are also worshipped on Dussehra. Since they have been immensely useful throughout the year, people express their gratitude towards them in this manner. "We worship all the household items like washing machine, refrigerator, computer and car on Dussehra. These goods are thoroughly cleaned, before we smear some turmeric and vermilion on them, and adorn them with flowers. Finally, a swastika symbol is drawn on them, as it is considered to be an auspicious sign," said Mayura Kashikar.
Dussehra festivities are incomplete without authentic meal, enjoyed with family. Vashi resident Ratna Waval has invited her in-laws', and will treat them to Maharashtrian delicacies. "Puran poli is a must at our place on this day. Although it is time-consuming, it is totally worth the effort as you get to enjoy it with your family."
It is vidyarambham for South Indians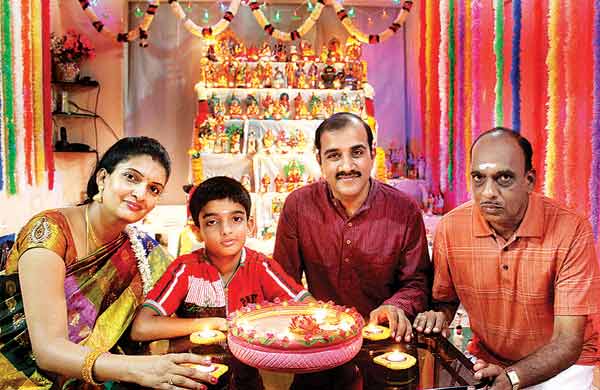 The Sukumar family celebrates Dussehra by arranging golu at home

Knowledge assumes immense significance on vijaya dashami for South Indians as this is the day when beginners are initiated into the world of letters and words. Though Malayalees have a vidyarambham ceremony conducted on this day, Tamilians and Telegus consider vijaya dashami to be the appropriate day to start learning faculties like music, dance or any instruments.
Vidya- knowledge and arambham- beginning; vidyarambham literally means beginning to start learning. Malayalee kids who have to be enrolled in school, are taken to the temple on this day where the namboodiri (Malayalee priest) writes on the child's tongue with a gold coin. The mantra that is written is- Om hari sri ganapataye namah. This is done in order to invoke the grace of goddess Saraswati.
"On the evening of ashtami, we keep childrens' books in front of Saraswati, as she is the goddess of knowledge. These are kept untouched throughout navami and on this day nothing is read. On dashami, we take out the books, and school and college-going children have to write the same mantra on a plate of rice and also the alphabets and numbers. Then, it is important to learn something, be it an answer or a chapter," Dini Surendran, a Kharghar resident said.
For Tamilians, the same is called Saraswati pujai; the only difference being that they do not have to write the mantra on a plate of rice. They also follow the custom of having golu (doll arrangement) throughout the nine days, i.e several dolls (mostly of gods and goddesses) are placed on odd-numbered steps.
There are many significances for this custom, one being that when goddess Durga goes to fight Mahishasuran, all the life forms in the 14 worlds become statues giving all their energy to the goddess. This is represented in the golu until the tenth day when the demon is slain and they are enervated.
"On the night of dashami, a few dolls are made to lie down i.e are symbolically put to sleep. The next day all the dolls are removed from the steps and kept safely till next year's Navaratri," said Sujatha Sukumar, a resident of Koparkhairane.
Knowledge assumes a lot of significance on this day and thus the guru is revered and shown respect. "I am learning Carnatic music and thus I will present gurudakshina to my teacher. It is a small offering that includes fruits, a coconut and a saree. Also, it is customary to learn at least one new song on this day," said Sukumar.
Guntura Annapurna, a Teleguite, will have similar customs on this day. "I will recite shlokas like Lalitha Sahasranamam and Lakshmi Ashtotram; these are in praise of lord Vishnu and goddess Lakshmi. Pulihara (tamarind rice), chakra pongal (sweet rice) and ghara (vada) is mostly offered as prasad." As she is a music teacher with around 60 students learning Carnatic music, all her students will perform in front of her as a gesture of respect for the guru.
Bengalis bid grand farewell to Durga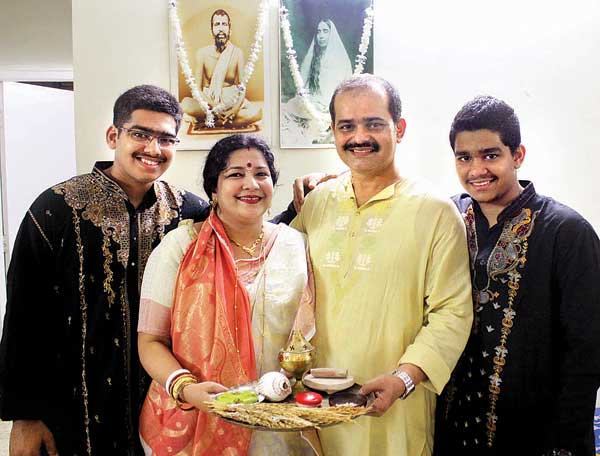 The Upadhyays will prepare a number of dishes for the occasion

Bengalis all over satellite city will be a busy lot on Monday as it is bijoya dashami, the day that marks Durga's triumph over the demon Mahishasur.
It is now time for Mas Durga to leave earth for her heavenly abode. And, the custom is to pamper her and send her off happily.
"When a woman leaves her mayka (parents' home), they make sure that she goes with a smile and a fulfilled heart. Similarly, on the tenth day, when the goddess leaves earth, she is pampered a lot. In the morning, we perform baran, i.e smear the goddess's face with sindoor (vermilion), only then we have the sindoor khela utsav among us," said Chitrita Mukherjee adding, "At my place we also follow the tradition of writing Sri Sri Durga Mata Sahay three times in a book using a red pen. Everyone in the family does this in order to get her blessings."
Mahua Upadhyay will have a busy day as sending off the goddess means preparation of several delicacies and a number of guests at the doorstep.
"Mother earth feeds her daughter with the best, so it is compulsory for us to make a curry of Ilish (Hilsa) fish in mustard sauce. We also make Narkel Naru, a sweet made of coconut and jaggery in praise of the her victory over Mahishasur. Kochu Shaag i.e a gravy made using the stems of Colcasia (taro), coconut and Bengal Gram," said Upadhyay who has friends and family members coming over to her house to enjoy the delicacies," she said.
Most of the women clad in their shada lal pade sari (white saris with red border) and men in kurta-pyjama; they set out in the evening for the immersion. Chorus chants of aashchhe bochhor abar hobe (it will happen again next year) will fill the air along with dhaak beats resounding in the background.
Jiban Ranjan Chatterjee, a priest who performs puja for Kamothe Bengali Assocaition said, "We perform darpan visarjan in the morning itself. In a plate filled with turmeric water, a mirror is placed in such a way that Durga mata's reflection falls on it. People then offer pranams to it. After the actual visarjan, it is customary for everyone to write the devi's name on a beal leaf (sirphal) using alta dye and pray for her return in the coming year."
The five-day festivities come to an end after much fanfare and enjoyment with everyone wishing each other Shubho Bijoya, bowing to elders and men follow the customary kola-koli which is embracing each other. All the people wait for her goddess Durga's return the coming year.
For Ahomiyas, it's victory of good over evil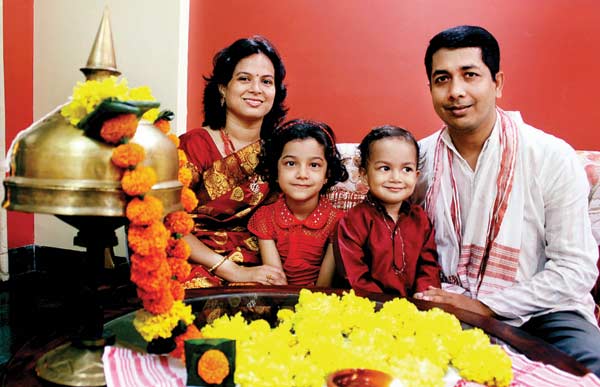 The Bora family will head to Assamese bhavan

For sarvajanik Durga Puja celebrations, the Assamese have only one stop; the Assam Bhavan.
Thus, scores of them will be seen in its premises in the morning, taking part in pushpanjali, Durga Puja and Aparajita Puja that is considered to be the last and the most important ritual.
The goddess is offered porshad which includes a mixture of channa dal, moong dal and fruits which are then distributed among devotees. Then, the women round up for the sindoor utsav that is a practice similar to the Bengalis'. All the married women smear sindoor on each other's foreheads and all over the face praying for their husbands' long lives. The priest then sprinkles shaantijol (holy water) on all the devotees.
"Sindoor utsav is not originally an Assamese custom but we have incorporated it because many Bengalis also take part in our celebration. So, we try our best to accommodate other practices while maintaining our originality," said Devashish Sharma, deputy resident commissioner of Assam Bhavan.
Manzil Bora takes part in the festivities throughout the day till the immersion is done, along with his family. "We dress traditionally on dashami. The goddess is dressed in mekhela chador and all the women wear the same along with handmade, gold- coated Assamese jewellery. Men however, are rarely seen in kurta-pyjamas as many prefer to be comfortable in shirt and pant," he said.
Everyone chants the gosani naam that is similar to the Durga naam. Gosani is a term given to the goddess in general like gosai is to a male god. It includes shlokas in Sanskrit. "On the first day, when we invoke the goddess, we keep a long string of red threads at her feet. And, on dashami, this is tied on the hands of all the devotees along with the stems of white aparajita flower. The threads are worn by everyone till next year's puja," said Shyama Prasad Borthakur, president of Assam Bhavan.
In the evening, the goddess is taken to be immersed, with all the devotees singing praise for her victory over the demon.
Gujaratis seek Maa Amba's blessing on the final day by immersing garbas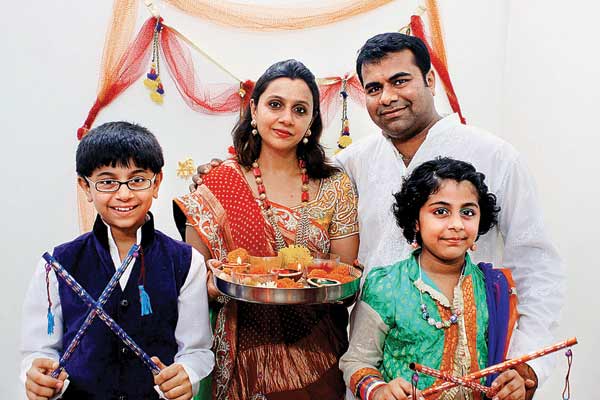 The Sapra family will receive guests with a host of dishes on platter

Amba is another form of Durga and all the Gujaratis will perform pujas to seek her blessings today, on the auspicious occasion of Dussehra.
All the women in the house get up early in the morning to make preparations for the day's rituals which mainly centre on the garba or the perforated earthen pot with a lamp in between it that is worshiped throughout the nine days of Navratri.
"On Dussehra, we immerse the garba in a pond just like Ganpati or Durga are immersed on the last day. After a puja in the morning, we offer prasadi that includes a sweet lapsi preparation, talwat and khichda. It is important to immerse the garba during the mahurat or the auspicious time and also put a little moong dal, a sweet and a coin before immersion as they are auspicious items," said Simple Lakhani, who goes to the Jagruteshwar temple for the visarjan.
Gujaratis also offer puja to goddess Amba on this day to seek her blessings for good health and prosperity. An idol or a photo is specially adorned before performing the puja.
Sejal Mayur Sapra said, "This puja is done in the morning when we adorn the goddess with items that are referred to as solah shringar like sindoor, bangles, anklets, maang tika among others.
We sing garba songs in praise of her victory over the demon. This is ended with an aarti." She added that after the puja, all the items of adornment are also immersed.
That is not the end of it as no festival in the Gujarati community ends without a grand meal cooked for friends and family.
"We will have around 25 people coming in on the final day of Dussehra and I'll be making dishes like pav bhaji, biryani, dhokla and gathiya. Jalebis and gulab jamuns will be made for desserts," said Sapra.
Madhu Patel, a Koparkhairane resident who always gives full rein to the foodie in her, said, "On Dussehra I will be going over to my aunt's house where we always have a grand get together. The platter is filled with Gujarati delicacies like undhiyo, khandvi, dal dhokli, shrikhand-puri, basundi and many more. There are a lot of family members during this time at home, so there is no lack of variety."