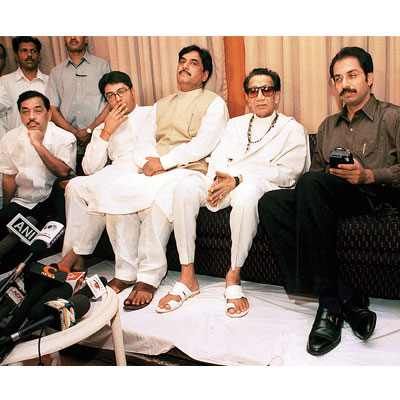 A true man of the masses, a leader who kept his organic connect with the cadre intact, an ardent foodie who loved snacking on groundnuts, and a large-hearted and efficient organiser who could spot and nurture talent, that was Gopinath Munde.
As the state prepares to bid adieu to the senior BJP leader and Union minister, BJP leaders and his associates are misty-eyed remembering their late leader's habits, anecdotes and idiosyncrasies. "Soon after he was sworn in as the rural development minister, an activist met him complaining that the gram sewak in his village was not working. Munde saheb picked up the phone to reprimand the official. He did not think if this work was below the stature of a Union minister, he just tried to help a party worker," said former MLA Sambhaji Nilangekar Patil.
Sambhaji, the estranged grandson of former chief minister Shivajirao Patil, noted how, during his tenure as a legislator from 2004 to 2009, Munde had nurtured and groomed him to become aggressive in the legislature.
Dr Madhusudan Kendre, the son-in-law of Munde's estranged elder brother Panditanna, remembers how Munde, a foodie, loved munching on groundnuts, papads and local snacks, including when he was travelling. Munde, a diabetic, also liked eating non-vegetarian food, he added, recalling an instance when he rewarded the cook for a particularly tasty spread in Parbhani.
"He knew many activists by name and had personal relations with them," said Kendre, reminiscing how he had travelled on motorcycles and even bullock carts during his numerous yatras in Maharashtra. Kendre noted how Munde, who moved on a two-wheeler when he became a MLA, had seen his share of road accidents in the past and a stage collapse.
Sambhaji too recalled how Munde liked the rice kheer available in Latur and would ask for it to be prepared if he was coming to his (Sambhaji's) home. Munde also liked bhindi (lady fingers) and karela (bitter gourd).
"He had a lion's share in building up Maharashtra BJP. He accommodated all religions, castes and sects in the party... and was a true mass leader," said former BJP MP from Beed Jaisingrao Gaikwad Patil, who was Munde and his brother-in-law Pramod Mahajan's associate after college days, adding that they were committed to strengthening the party as a tribute to Munde. Gaikwad, who has his roots in the RSS and Arya Samaj, had quit BJP to join NCP after a fallout with his former friends, but returned to BJP via Shiv Sena.
For All-India Muslim OBC organisation chief Shabbir Ahmed Ansari, who is an OBC like Munde, his death has come as a shock. Ansari met Munde a day earlier to discuss the organisation's plans to felicitate Munde this month in New Delhi on his becoming a Union minister.
Ansari, who has to his credit the feat of bringing together bitter political foes Munde, NCP chief Sharad Pawar and then West Bengal chief minister Buddhadeb Bhattacharya on a common platform, noted how Munde would speak with passion about his plans to uplift the OBCs and the common man.
"He was a true fighter to the core and fought back against attempts to marginalise him in BJP," said Ansari, adding that despite his Sangh Parivar roots, Munde went soft when it came to Hindutva.
"I was an overseer in a sugarcane cutters group," said former MLA from Chousala in Beed Keshavrao Andhale, adding that Munde, with whom he had worked in the Maharashtra State Sugarcane Cutters Union, had chosen him to contest against powerful minister Jaydut Kshirsagar and helped defeat him. "He gave an opportunity to the common workers," he said, noting how Munde never lost the commoners' touch.
"Except for the 4.5 years that he was the deputy chief minister, he did not get due credit for building up the party and weakening Congress in Maharashtra... he was always caught up in struggles and controversies, with little time to relish his success," said a BJP leader, adding that ironically, Munde had passed away just after he had been entrusted with the crucial rural development portfolio. "This is a major jolt for BJP, there is no replacement for Munde saheb," he lamented.