Chartered accountant's motorcycle explodes as soon as he starts it; he succumbs to his burn injuries in KEM hospital hours later.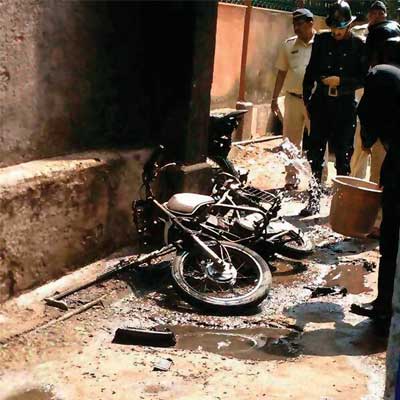 A 37-year-old man succumbed to burns at Parel after his bike caught fire on Thursday morning.
"Vipul Gada, 37, a chartered accountant, was leaving for work. Like any other day he started his Yamaha RX 100 and that's when an explosion occurred," said Vikram Patil, senior inspector from Bhoiwada police station.
Within minutes of the incident, his friends and neighbours rushed him to the nearby KEM hospital, where he succumbed to his injuries.
According to the post-mortem report, the cause of death was heavy bleeding and haemorrhagic shock. "He bled profusely and could not be saved despite efforts by doctors in the casualty ward. The patient suffered serious injuries in his groin region. His leg muscles were severely torn apart," said Dr Harish Pathak, head, forensic medicine, KEM hospital.
An inspector from a regional transport office has checked the charred bike to ascertain the cause of the fire; a report is yet to be submitted.
However, local motorcycle mechanics, after taking a quick look at the bike, said that the battery exploded within seconds of him kick-starting the bike due to an air lock or back compression.
Another mechanic said, "If the fuel valve is kept on for hours, it results in petrol overflow and air filter gets soaked." Thus, when Gada started his bike, due to back compression combined with wet air filter it must have caught fire, he added.
In Yamaha RX100, air filter and battery are placed next to each other, which might have resulted in battery too catching fire immediately and eventually exploding.
Moreover, with the fuel valve being open there was ample flow of petrol to turn the vehicle into a fire ball.
Gada's parents are on their way from Gujarat for his final rites, which will be conducted on Friday morning.
A similar incident had occurred over two years ago in Thane in which the rider had escaped unhurt.
@tweetateeq