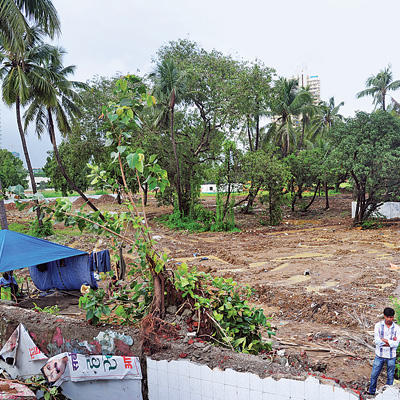 The Brihanmumbai Municipal Corporation, on Friday last, acquired a reserved garden plot that was part of Bombay Dyeing's sprawling mill property at the prime Lower
Parel area. It was a Bombay high court order that paved the way for the civic body getting hold of the land.
When was the HC order?
Last November. The court ordered the textile major to hand over the land to BMC and Mhada. The land in question includes mill plots at Wadala and Lower Parel.
Why was handing over delayed?
"Handing over of the land was supposed to be completed by this February. However, the process got delayed as the owner was required to level the ground and construct a wall around it before handing it over to us," a BMC official said.
How big is the land?
The plot acquired by BMC is 8.2 acre or around 66,651sq mt.
What has BMC done with it?
The development planning department of the civic body has handed it over to the garden department, which has hired an agency to develop a garden on it.
When will it be completed?
"We have already started mobilizing manpower and machinery to start work on the garden. We hope to complete the work by next May, before the monsoons," said a civic official from the garden dept.
How much will it cost?
The garden will cost the civic body around Rs 11.5 crore.
What's special about the garden?
The theme of the state-of-the-art garden will be the Samyukta Maharashtra movement. All parts of the garden will be connected to a common part. It will have a cycling track and a walking track; an open gymnasium, an amphitheatre; play area for children and designated area for senior citizens; a designated lawns for yoga, meditation; and water fountains and other utilities.
"Apart from all these, a rose garden and a bonsai garden are also part of the plan. The planning is however at a preliminary stage," the official added.