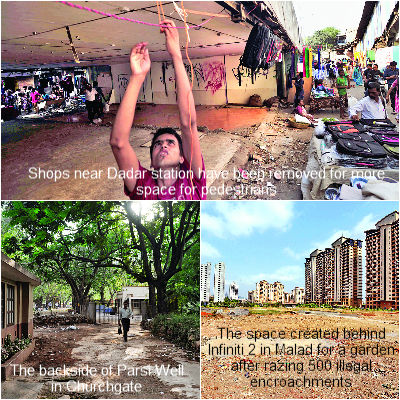 The public image of Brihanmumbai Municipal Corporation (BMC) is that of an organisation that is bureaucratic, corrupt and generally indifferent to citizens' problems. A lot rests on the assistant municipal commissioners who are in charge of the 24 wards. If each of these officials works efficiently, the city can see a dramatic change in terms of cleanliness, good roads, etc. But most of them lack the dynamism that is necessary to make the ward administration work. However, there are a few of them who are springing pleasant surprises on citizens. Here are five assistant municipal commissioners who go the extra mile to deliver civic services in their respective wards...
A ward
With an area of 12.5 sqkm, the ward extends from Dock Area, Ballard Estate, Shaheed Bhagatsingh Road in the east to Navy Nagar and Foras Road junction in the west, and Anandilal Poddar Marg, Lokmanya Tilak Marg, F Road and P D'mello Road junction in the north to Colaba (military area) in the south. The ward has a population of 2,10,926. It is a residential-cum-commercial area.
The ward, made up of important SoBo areas, including Colaba, Nariman Point, Cuffe Parade, Fort, CST and Crawford Market, is primarily a commercial zone with a floating population of 30 lakh who work in the many offices here. All the important central and state government offices are located here, including Mantralaya. Apart from the central business district, it has vital installations — the docks, defence headquarters and the Gateway of India.
Man in charge: Devidas Kshirsagar, 38
Despite the ward's high profile, the only thing on Kshirsagar's mind is providing better services to citizens. "Imagine providing water supply to the 30 lakh people, who come here daily from different parts of the city, apart from the local residents. It's a daunting task. People here are so sensitive that they will call up even if the garbage van is delayed for some time. We also have to be on our toes with regards to cleanliness and controlling hawking activity," says Kshirsagar, who has been constantly taking action against illegal hawking.
Road maintenance, too, is a big challenge. "There are 199 roads here and 150 of them are more than 30 feet wide. There is constant VIP movement because of the location of Mantralaya and defence establishments. The upkeep of the roads and keeping them clean round the clock is quite a task," admits Kshisagar. He claims that the key to his success is joint effort by his staff and the area's alert citizens.
Kshirsagar works in close coordination with local NGOs, such as the Oval Cooperage Residents Association, one of the most active citizens groups in the area. The group has not only developed a garden in Cross Maidan but also helped BMC and collector's office evict illegal hawkers permanently from the area and beautify the space around the Parsi well.
Ajay Multani from Colaba says working with Kshirsagar is very constructive. "He is open to criticism and complaints. He responds positively to citizens' suggestions and gets their work done in time. I have come across very few officers like him who cooperate with citizens. When we meet during A ward federation meetings, we bring up several issues, grievances and complaints. He keeps in mind all of them and tries to resolve them quickly, even if it means taking help from the civic headquarters," says Multani.
Like Multani, most residents confirm that Kshirsagar tries to redress grievances on the spot. "If we cannot get through to him on phone, we can send him an SMS. We don't even need to follow up. His men are on the street within half an hour. Also, one can't expect BMC alone to tackle civic problems. There is need for active citizen participation which helps officers like Kshirsagar," says Sanjay Gurav, a Fort resident.
Kshirsagar says, "Look, sooner or later I have to address the issue. Why wait? Just get the job done. I don't even need to ask my officers whether they were on the job or not. I get direct feedback from the people. They message me after their issues are resolved. That's the certificate for my team, without which I would have not been able to do anything."
G-north
The ward, with an area of 9.07 sqkm extends from the area between Central and Western railways in the east, from Kirti college up to Mahim creek in the west, and from Mahim Causeway to Maharashtra weigh-bridge in the north to Kamgar Krida Kendra, Kakasaheb Gadgil Marg and Siddhivinayak Mandir in the south. It is primarily a residential area with a population of 5,90,609.
The ward is a politically sensitive area, with both Shiv Sena and Maharashtra Navnirman Sena having their headquarters here. It plays a vital role in providing connectivity between the island city and western suburbs.
The ward has a diverse demographic nature — Asia's largest slum Dharavi, which is densely populated and generates maximum garbage, on one hand Shivaji Park on the other. Upcoming residential projects, commercial buildings, hawkers and mega public events round the year make Dadar more prominent and vulnerable too.
Man in charge: Sharad Ughade, 31
For Sharad Ughade, a new entrant from Maharashtra Public Service Commission in 2012, this is his first job. A mechanical engineer by profession, Ughade believes efficiency lies in quickness. "We have diverse areas. Whether it is Dharavi, Dadar or Mahim, people here need to be convinced about the changes we need to bring. Dadar is known as one of the most favourite shopping destinations and, hence, it is thickly populated near the station, which restricts pedestrian movement. They want to shop but don't want hawkers. We have to explain to the residents and the political parties before taking any action. Fortunately, they understand our aim and help us," says Ughade, who has taken an initiative in his ward to improve teamwork. "I meet the entire staff of the building regularly to resolve inter-departmental problems so that public work gets expedited."
Garbage generation is the highest in city here. Also, the roads are perennially congested with hawkers. There are 35 major and about 70 minor roads in the ward. "We have to be careful about their upkeep. ...our staff ensures there are no potholes."
"We have a lot of events round the year, occasions such as birth anniversary of Babasaheb Ambedkar, Mahaparinirvan Din (December 6), Maharashtra Day (May 1), Independence Day (August 15) and Balasaheb Thackeray's death anniversary (November 17), among other. Dadar also witnesses Ganeshotsav, the immersion and Janmashtami in a big way. So our staff is always on toes," he adds.
Ughade says citizens in the area are alert and active. ALMs in the area come up with different ideas and, at times, even come up with solutions for us, he adds.
MNS corporator from Dadar Sandeep Deshpande says Ughade is young and enthusiastic. "At any given point, if we approach him with a problem, he is ready to address it. Even citizens are free to contact him," he says.
P-south
Measuring 29.56 sqkm, the ward extends from Filmcity Road and Aarey Colony in the east to the creek and Chincholi Bunder Road in the west and Oshiwara River in the south. It had a population of 4,51,907. It is predominantly a residential area, with several new buildings coming up, especially in Bangur Nagar.
Man in charge: Ramakant Biradar, 45
Biradar had taken up the position almost a year ago. His major achievements include start of several new projects, which, he hopes, will be completed within the next six months. "Following residents' demands, we have started work on 23 major roads, which we are expecting will be completed within the next couple of days," he says, adding that 50% work on a bridge which will connect SV Road to Western Express Highway is complete. "It will reduce commuting time from 30 minutes to just a minute by decongesting that spot," he says.
The ward will also put a new sewer line in Shastri Nagar, a chronic flooding point. "The work will be completed in the next five months. For this monsoon, pumps are in place," Biradar says.
Biradar also assures there has been no case of leaving garbage on the streets. "Apart from the regular duty, we immediately lift up garbage whenever we get a call," he says.
As for challenges, Biradar currently is not facing any major ones. "People in the ward are cooperative and that makes the job easier," he adds.
However, Kavita Thakker of the NGO Mera Haq Mera Adhikaar Foundation, has several complaints against the ward. "The ward officer is never available to meet us, even on public grievance day," she says.
"Whenever we have approached him with complaints of illegal construction, he has passed the buck to the building proposal department."
P-north
The ward has an area of 46.67 sqkm. It extends from national park (forest department and T ward office boundary) in the east to Arabian Sea bank in the west, and R-south ward office boundary-Nursing Lane –Kranti Nagar–Appa Pada–Gandhi Nagar in the north to P-south ward office boundary–Chincholi Bunder Road–Upper Govind Nagar–Gen. Arunkumar Vaidya Marg–east side of Filmcity in the south. It is an upcoming residential area with a population of 7,89,645.
Man in charge: Devendra Jain
After 22 months of his assuming the office, Jain wants to change the image of ward office completely. P-north ward, infamous for frequent traps of Anti-Corruption Bureau, is now almost cleared of professional complainants. There are 280 professional complainants in the area and they had made the ward office building their second home.
After an illustrious stint in G–north ward, where Jain had to face the ire of Shiv Sena and MNS for evicting illegal hawkers and removing illegal hoardings and banners, he has resolved to change the image of P–north ward.
Even though Jain received mixed response from the area's citizens, he thinks the moment their grievances get resolved, they start feeling good about their area.
"Challenges for me were several. Unauthorised construction, professional complainants, illegal dumping of debris, bad condition of roads, inadequate gardens and dilapidated buildings, to name a few. People wanted good roads. They wanted mechanism that would help rainwater recede from main roads to curb traffic jams. They don't understand the difference between the role of a central agency and ward. What they understand is that putting the complaint in this municipal building should resolve the problem," says Jain.
"As an attempt to bring citizens closer to the ward, I conducted an introductory meeting. All the citizens were invited. My team was introduced to them. I ensured that professional complainants were ousted from the ward office building to make way for common people to come with their grievances."
To ensure that people are made to leave dilapidated buildings to avoid loss of life and property, the ward office surveyed such buildings. About 30 were in the dangerous category. Residents were called and shown a presentation of the survey. They were shown dangers and made to understand why it was important to face little hardship compared to loss of life and property. Each tenant of such buildings was given a certificate from BMC with the area measurement of his/her home. This was an assurance to them that they won't be duped if the building is redeveloped.
Noella Varela, a civic activist from Malvani, says Jain's working style is very efficient. "He takes the legal way and works in total transparency, so it's easy to accept his verdict. He addressed our long-pending issue of Christian, Hindu and Muslim cemeteries. When MLAs, corporators and MPs have had different ideas and lack of a consensus, several times, Jain has provided a solution," she says.
Another activist from Malad (East) says the best thing about Jain is that he listens to their grievances with an approach to help them. "He doesn't allow and encourage unauthorised construction," he adds.