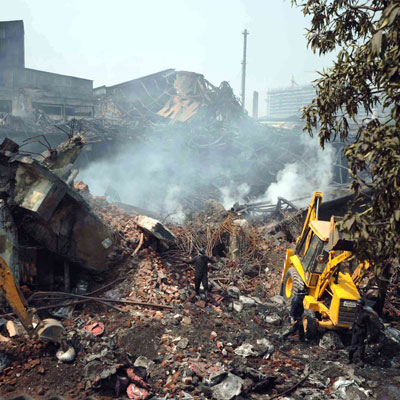 A day after a major fire broke out at a tyre manufacture plant near Nahur railway station, mayor Sunil Prabhu on Monday expressed doubts of sabotage behind the incident. Subsequently, Prabhu has ordered an inquiry into the incident.
Eight persons, including seven firemen were injured in the fire which broke out around 5:30pm on Sunday and was extinguished after an 11-hour attempt. The victims were admitted to Agarwal hospital in Mulund.
As on Monday evening, the fire brigade was not able to ascertain the exact cause of the fire and the extent of damage to property.
"I had sought a report regarding the incident. The primary report doesn't clarify the reason and the extent of damage caused to property. However, the incident has stoked confusion in the minds of many and I have been receiving messages that the incident could have been sabotaged. I have instructed the fire brigade to file a report with me," Prabhu said and added, "If anyone is found to be at fault, we will take him/her to task."
The mayor also said he will stand by the workers at the factory, a majority of whom are Maharashtrians. Trade union leader Rakesh Shetty demanded an inquiry into the "mystery fire" by a retired judge of the high court. He said a part of the factory land has been sold to a firm of builders, Ashford Infrastructure, without the cabinet's approval. "I had asked chief minister Prithviraj Chavan to hand over the land to Mhada and build flats for the workers," Shetty added.
Chief fire officer AN Verma said it will take a few days before the brigade ascertains the cause of the fire.
Meanwhile, the management of CEAT Tyres issued a statement stating that there has been no loss of life and damage to the main plant and machinery. The manufacturing activities at the plant have been temporarily suspended, the statement reads.
"The management is extending its complete co-operation with the authorities to find the cause of the fire. CEAT has always invested in enhancing safety standards at all its plants and will continue to do so," the management said.
The fire brigade had put in use 16 fire engines, 9 water tankers and an ambulance to douse the fire.