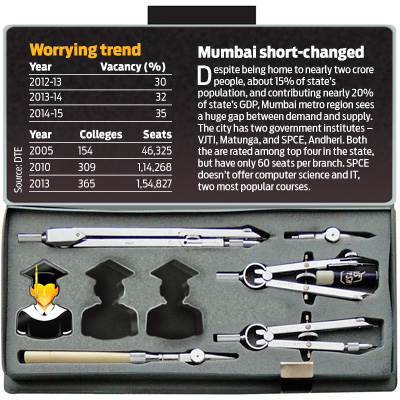 Its tag of most industrialised state in the country notwithstanding, Maharashtra is once again staring at a huge number of vacant seats in technical institutes, a situation reminiscent of the dot-com bubble of the late nineties.
A 'seat boom' started in Maharashtra about seven to eight years ago when the All India Council of Technical Education (AICTE) allowed private institutes to scale up their intake capacity, apparently to create a large skilled workforce to meet industry demands.
However, a consistent rise in number of vacant seats in past few years has educationists questioning the AICTE move to improve gross enrolment ratio – from current 18.5% to 35% by 2020. Evidently, the underlying issue affecting the technical education sector in Maharashtra is quantity versus quality.
How many seats are lying vacant today?
Of the total capacity of 1.63 lakh seats across 365 engineering colleges in the state, only 1.02 lakh students enrolled for various courses this year, leaving nearly one-third seats unoccupied. However, the demand for courses offered by the eight state/aided colleges, including two in Mumbai, is increasing every year – these colleges have only 3,500 seats.
What are the factors?
The vacancies come alongside, and in spite of, three parallel trends across the country — massive growth in actual student intake, relaxed eligibility criteria for admission, and closure of a number of institutes, especially those offering less popular courses. Officials attribute this trend to non-robust curriculum, lack of infrastructure and research environment in most of the private institutes. Poor intake rate may seriously jeopardise the future of such colleges. "The way enrolment is dwindling year after year, we are definitely not going to achieve the gross enrolment targets," admitted a senior bureaucrat at Mantralaya.
Why govt colleges can't take more students
Low priority by the government. The budget for technical education in the state was Rs398 crore in 2012-13. It was reduced to Rs314 crore in 2013-14 which further slipped to Rs292 crore for the current fiscal year. This doesn't include the district plan fund which is almost equal in amount used mainly for strengthening ITIs under the supervision of the guardian minister of that district. Only a small fraction of this fund goes for the betterment of the state engineering colleges.
Are students flocking to other places?
Yes. Scores of students are heading for better-equipped private engineering colleges in other states and foreign universities – nearly 20,000 students went to colleges in US, Canada, New Zealand and the United Kingdom last year. Vellore Institute of Technology (VIT), a private university in Tamil Nadu, for instance, saw 1.93 lakh students, including about 15,000 from Maharashtra, taking the entrance test for 4,700 engineering seats. All the seats were filled as the admissions were wrapped up in June.
BITS, SRM, Manipal and Amity Universities also drew sizeable number of engineering students from the state. "If the trend continues, the brain drain would start affecting Maharashtra," said a professor.
Where do state universities stand?
According to VIT chancellor Dr G Viswanathan, "Nearly 1,000 Maharashtra candidates have bagged seats in various engineering courses which is second highest after Andhra." The varsity is ranked among top ten engineering institutes in the country. By contrast, none of the Maharashtra universities or engineering institutes features among the top 10. The biggest two – Nagpur (850 affiliated colleges) and Mumbai University (770 colleges), which cater to over 10 lakh students, including engineering courses, are mired in controversies ranging from unrecognised institutes to underqualified teachers/principals and administrative failures.
Mumbai short-changed
Despite being home to nearly two crore people, about 15% of state population, and contributing nearly 20% of state's GDP, Mumbai sees a huge gap between demand and supply. The city has just two government /aided institutes – Veermata Jijabai Technological Institute (VJTI), Matunga, and Sardar Patel College of Engineering (SPCE), Andheri. Both the campuses are rated among top four in the state, but have only 60 seats per branch. SPCE doesn't offer computer science and IT, two most popular courses.
Even the government is aware of this anomaly. "Number of seats required here is high but intake capacity of Mumbai is just 7% due to high cost of land, rentals, etc," states the perspective plan of the directorate submitted to the state government in 2012.
Ruing the situation, an engineering student said, "That means for general category students seeking computer science, there are just 30 seats in state-run institutes in Mumbai. Clearly, the government is sleeping and indirectly supporting the private colleges."
Game-changer technological university yet to take off
The game-changing concept of technological univeristy may have been adopted by other states years ago, but it is still grounded in Maharashtra. The technological university in Andhra and Punjab, for instance, have all engineering, polytechnic and management colleges under its ambit. It supervises technical education, designs robust curriculum, strengthens industry-college links, all keeping a tab on job sector. Maharashtra too proposed such a university at Lonere, with extension centers in Pune, Aurangabad and Nagpur in the ninth five year plan. It was established after much delay. But the rules are yet to be framed, regional centres not made and VC is yet to be appointed. None of the 365 engineering colleges have sought affiliation. Lack of expertise and interest apart, political will to improve things is grossly missing.
Reports of high-level committees junked
A high-level committee led by joint director Dayanand Meshram in 2013 had identified reasons for vacancies. It said students are not keen in courses that do not guarantee jobs. The committee also cited high fees at non-aided institutes, lack of infrastructure in colleges in rural areas and quality education in other states as factors for this poor state of affairs. Recommendations by Dr Anil Kakodkar committee which suggested measures to curb malpractices in higher education by breaking up of the bigger universities to many is yet to see the day of light. However, the government promptly implemented the Dr Arun Nigwekar committee's report which suggested opening up the higher education sector for private universities.