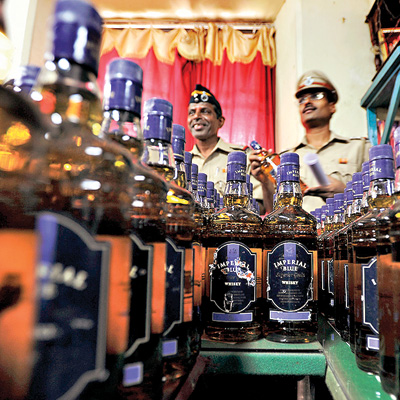 Toll nakas aren't popular with road users forced to shell out money for commuting through. Excise officials however found them useful as they helped them make one of the largest seizures of spirit in the state. Officials tracked the movement of a truck carrying spirit through toll nakas and later detained it in Nashik district. It was bringing about 5,500 litres of extra neutral alcohol (ENA) used to produce liquor.
How did excise know?
Inspector Mangesh Kawale of excise flying squad received a tip-off about a truck bringing spirit and heading to Pune. He also knew its the number. Officials checked roads and toll nakas on the route and approached toll stations to get information on the frequency at which the truck kept crossing toll nakas.
Who detained the truck, where?
A raiding party comprising inspector Mangesh Kawale, sub-inspectors SS Deshmukh, AS Chavan, NA Gosavi and others last week at Yewla in Nashik district. They also arrested the driver. The dept is now looking for the Pune-based truck owner and are trying to locate the distiller, manufacturer and end user.
How much spirit was seized?
5,425 litres of ENA in 155 cans of 35 litres each from a concealed area in the vehicle. The cans were covered with groundnut shell sacks. An excise flying squad also seized 3,000 litres of spirit from a tempo at Songir in Dhule.
How much is it worth?
Spirit seized in Yewla is worth over Rs 38.75 lakh.
Has the driver been arrested?
Yes. "He is a small link in the chain," said Kawale. He has been asked to handover his vehicle at a spot on Jaipur-Delhi bypass and collect it 8 to 10 hours later.
Where was the truck headed?
It was to be driven to Pune from where another driver was to take charge.
What happens when drivers are caught?
In the liquor smuggling chain, if a driver is caught others who come to know of it would destroy their SIM cards to prevent detection. This makes it tough to nab the masterminds.
What is the mode of transporting spirit?
Production takes places at point A; one man transports it to point B where someone else takes over from him. So on and so forth. These people do not know each other except through phone calls.
What is smuggled spirit used for?
For making liquor. If it weren't for consumption it would have been denatured before being taken out of the factory, Kawale said.
Why is spirit being smuggled into state?
Liquor is priced high in Maharashtra, which has one of the highest excise duty regimes in India. But neighbouring states and union territories like Goa and Daman have liberal policies and liquor is cheaper, leading to huge quantities being smuggled in.
Where is spirit brought from?
Maharashtra is also a transit point for transporting liquor from Haryana and Madhya Pradesh to Gujarat, a dry state.
What is the mode of operation?
Spirit is brought to the Maharashtra-Gujarat border, made into liquor and supplied in Gujarat.
Why is excise dept after spirit smugglers?
Spirit smuggled into the state is sometimes meant for the local markets. It's made into IMFL and supplied to upper-strata of the society. This leads to huge revenue loss for the govt.
Consumption data
In 2013-14, IMFL consumption rose by 7.84% to 1,615.06 lakh BL, as against 1,497.62 lakh BL in 2012-13. The sales of beer have however headed south at just 2,986.09 lakh BL in 2013-14; down from 3,169.34 lakh BL in the previous fiscal (-5.78%). Consumption of country liquor (CL) too fell to 3,210.97 lakh BL from 3,382.99 lakh BL (-5.08%). Wine consumption however rose by 9.71% to end at 50.56 lakh BL from the previous 46.08 lakh BL.