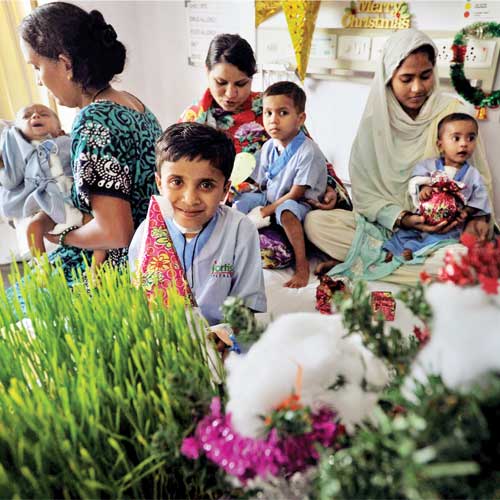 Seven Mumbai families have good reason to believe in Secret Santa now. On Christmas — the festival of joy and giving — an anonymous 60-year-old man played Santa Claus to them by fully funding open heart surgeries of seven children. This act of kindness by an angel who wants to remain unknown has spread cheer in the lives of those who, till recently, had lost all hope.
Sabikunissa Ansari, 20, was worried after her daughter Aatiya fell ill two months after her birth.
"She ran high fever and coughed incessantly. A local doctor asked us to consult the BMC-run Sion Hospital as he suspected that there were holes in her heart," said Sabikunissa. Doctors at Sion Hospital refused to operate on the infant as she weighed less than 4kg. "My baby's condition continued to worsen, but the doctors did not dispense medicines on time. They delayed her surgery citing her weight," Aatiya's father, Sadr-e-Alam, told dna.
The Ansaris took their ailing daughter to the private-run Fortis Hospital in Mulund, but were dejected as they could not afford to pay for her treatment. Fortis doctors said Aatiya had two holes in the upper and lower chambers of her heart. This led the blood to flood her lungs and also caused her heart to swell. "The cost of the surgery was a whopping Rs1.5 lakh. As an autorickshaw driver in Bhiwandi, it was beyond me to collect such a large amount. It left me exasperated," Sadr-e-Alam said. His agony, however, was short-lived.
The doctors told the Ansaris that an anonymous donor had agreed to fully fund surgeries on Christmas. They gladly accepted the surprise gift. "My baby got operated without a hassle," said an elated Sadr-e-Alam. "Aatiya was breathless and had no capacity to breast-feed. Lack of urgent care could have posed a threat to her life," said Dr Swati Garekar, paediatric cardiologist at Fortis Hospital.
In the adjoining room, Abrar Khan, 3, was operated to set right a valve which was intruding into the hole in his heart. Though he now enjoyed watching cartoons on television from his hospital bed, his mother, Nazmeen, 26, recounts the pain he underwent. "Abrar would get tired soon after playing for a few minutes. His heart would thump violently against his chest so fast that we could hear the heartbeats. We took him to the BMC-run KEM Hospital for a few months, but there was a long waiting list there," she said.
At Fortis, Abrar, too, was a recipient of 'Secret Santa's' benevolence. "I am glad he underwent surgery immediately," said Nazmeem. The families of five other children who underwent surgery at Fortis are also indebted to the anonymous man who funded their surgeries.
The seven children are lucky. There are several others in need of heart surgery but are languishing in utter neglect.
"There are only two specialised centres in Mumbai, including Fortis and Kokilaben Dhirubhai Ambani Hospital (KDAH), which treat paediatric heart conditions. Since the launch of Heart Mission six months back, we have treated 150 children under the programme by raising close to Rs1.5 crore," said Dr Vijay Agarwal, paediatric cardiac surgeon at Fortis Hospital.
"Mumbai hopelessly lags behind Delhi and South India in the field of congenital heart care. Most public hospitals like Sion, JJ and Nair have refused to operate on children who weigh less than 10kg and suffer from heart defects. The doctors have been referring such critical cases to KEM Hospital or private set-ups for more than 20 years now," said a senior cardiac surgeon at KEM Hospital.
With the rising number of children on the waiting lists in civic hospitals, the BMC should take a more responsible stance by calling for a joint meeting of all public and private hospitals to tide over the crisis," said Dr Suresh Rao, head, paediatric cardiac surgery department, KDAH. Agarwal said while they operate on 400 children every year, they are aiming at doubling the number in the coming year. "
Paediatric heart surgeries in Mumbai annually
KDAH 500
Fortis 400
KEM 300
Sion 300
One in every 100 newborns has a heart defect, including holes in the heart, obstructed blood flow due to narrowing of vessels, incorrectly positioned blood vessels going to and fro from heart, abnormality of heart valves or a combination of these defects. In Mumbai, only Fortis and Kokilaben Hospital offer specialised paediatric cardiac care
Of the nearly 2,00,000 kids annually born with congenital heart defects, up to 60,000 are critical and need surgery immediately after birth
In India, not more than 15,000 children get medical help. The rest languish to die. At Sion Hospital, doctors refuse to operate on children weighing below 6-10kg
In Sion and KEM hospitals, surgeons trained in adult cardiac care, handle children. Mumbai lags behind Delhi and South India in the field of congenital heart care.