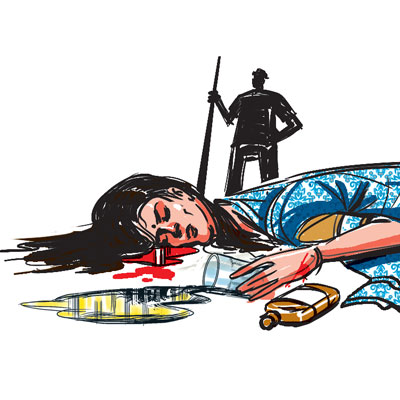 A 55-year-old man killed his wife for drinking alcohol at Gholwad in Thane on Tuesday afternoon. The woman, a habitual drunkard, used to drink at home in front of family members.
According to police, Bharat Gosavi Aaghri, a daily wage labourer, got furious when he saw his 50-year-old wife Aruna Bharat Aaghri driniking alcohol in front of their daughter.
"The accused who works in Govandi as wage worker came home to have food. When he entered the house he found his wife drinking. He asked her for food, but she did not respond. So, in a fit of rage, the accused went outside, picked up a bamboo and started hitting her on the head," said a police officer, adding that the woman started crying for help.
Hearing her screaming, neighbours rushed to the spot and took her to the hospital, but she was declared dead on arrival.
The police said the husband had warned the wife to stop drinking as it will have reverse effect on their child.
Bharat was arrested after their neighbour lodged a complaint with the police.
"We have arrested the culprit. We will produce him in court tomorrow. Things between the husband and wife were sour and they used to end up fighting over small issues. The wife used to drink since past many years and the husband was asking her to stop the habit but she ignored," said a police officer.
The accused has been booked under Section 302 (punishment for murder) of the Indian Penal Code (IPC).