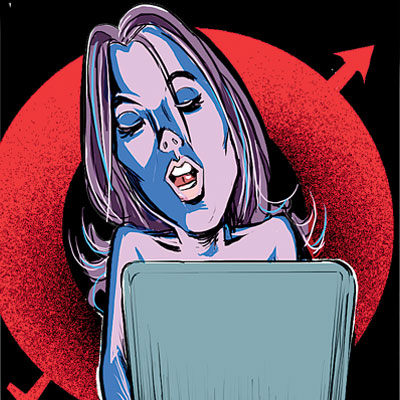 Over the years, Podar Institute of Education that has a course in 'early childhood education, care and administration', has found that young female students are uncomfortable talking about sex, pregnancy condom, etc.
The institute recently conducted a survey involving their students, their relatives and friends (all females) on how comfortable they are talking about sex, pregnancy, condom, sanitary napkin, childbirth, etc. What they found shocked them. Of the 8,000 girls and women surveyed, 49% learnt about sex watching porn videos with friends, and 44% from Mills and Boons and similar books.
As part of their one-year diploma course, in 'Early Childhood Education, Care and Administration' these students learn about conception, birth and breastfeeding. It was after observing that students were uncomfortable talking about sex, pregnancy, etc, that the institute decided to conduct the survey.
The institute interviewed women in the 18-43 age group over a period of 6 months in Pune, Nashik, Bangalore, Mumbai, Navi Mumbai and Ahemdabad.
In the survey, 56% of the women were in 18-25 age group (52% graduates, 44% undergraduates, 4% 12th pass; 25% of those surveyed were in 26-35 age group (67% graduates, 20% undergraduates and 13% 12th pass); 19% were in 35-43 age group (23% graduates, 20% undergraduates and 57% 12th pass).
These were the kind of questions asked: Do you think sex education should be part of our education system? At what age should it be introduced? What do you feel when you watch ads on condom or sanitary napkin on TV? How did you learn about sex? Are you comfortable watching kissing or sex scenes on TV/movies? Did your parents talk about the 'first night"? Why do you think women are getting raped in this country? When you were pregnant did you know all the facts about how a child is born? Do you feel embarrassed when someone breastfeeds their child in front of you? At what age did you know about sex and how babies are made? Who talked to you and guided you about menstruation?
Some of the results were shocking! Like, when asked did your parents talk to you about 'first night', 76% said no, and 7% said yes, and there was no response from 17%. And 49% had learned about sex and how babies are made between the age of 18 and 25; 32% had learned after marriage and 19% between 12 and 16.
Swati Popat, president, Podar Education Network and Early Childhood Association said: "The startling facts that have come out are that most girls are still learning about sex and childbirth from avenues other than a trusted adult (parent, sibling). This is worrying because sexual education should come from known people and should be related to ease, comfort and a healthy attitude to sex. Instead, they learn about it from porn movies or soft porn novels. Boys too learn about sex from porn videos which in turn make them relate to it as lust and a crude act. If sex education is gained by watching porn, then the relationship between man and wife will become more animal like and unnatural."
She added: "We need to ensure that children are taught about sex, marriage and childbirth as part of the education process. Maybe we can call it a different name like 'body and relationship education', which may be more acceptable. The survey also identified the need to educate parents on how to handle their growing kids so that kids don't learn about sex from incorrect sources."
Seema Hingorany, clinical psychologist and relationship expert, said: "I am not surprised by the study at all. I have handled a lot of teenage clients. Some of them are extremely shy and never spoke about sex with their family member and don't want even to discuss it. They shy away from eye contact when the topic is sex, and their body language changes when it's discussed. Girls are little aware about the menstruation cycle and mothers aren't very open about it. Lot of girls have doubts on this, but they don't dare to talk about it even to their mothers because they think parents will get angry. Parents need to be sensitive and should not be scared about this as it's a major development and brings about changes to a child's body."