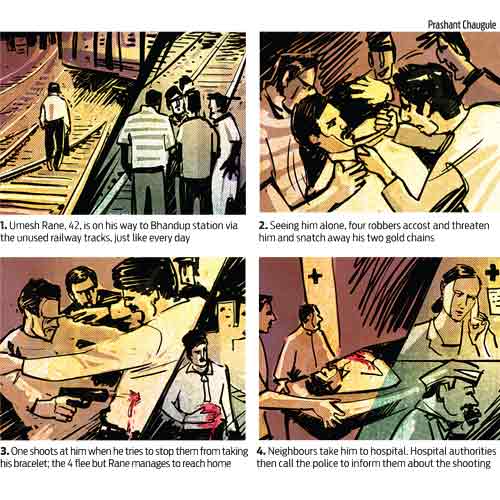 A 42-year-old cashier working with Reliance Fresh in Kurla (West) was shot at by four robbers when he tried to stop them from snatching his belongings near the unused railway tracks close to Bhandup station on Wednesday morning. However, the robbers managed to flee with two gold chains of the victim.
The incident took place around 7am. A resident of Usha Nagar complex near Bhandup station (West), Umesh Rane was on his way to the station via the unused railway tracks, as usual.
"Finding him alone, four unidentified robbers accosted him and took his two gold chains, weighing 10g each, after threatening with dire consequences. When they tried to snatch his gold bracelet, he resisted. One of the robbers, in a fit of anger, whipped out a pistol and fired one round at Rane at point-black range.
Rane screamed for help and collapsed on the ground.
However, the robbers managed to flee," said deputy commissioner of police (zone VII) Mahesh Ghurye.
Despite sustaining a serious bullet injury in the abdomen, Rane managed to reach home and inform his wife and neighbours. His neighbours took him to Fortis Hospital in Nahur.
After admitting him, the hospital authorities called the Bhandup police, said Ghurye and added that Rane is undergoing treatment and is said to be out of danger.
"We have registered a case under sections 307 (attempt to murder) and 392 (robbery) of the Indian Penal Code and under relevant sections of the Arms Act. The assailants, aged between 18 and 25, used a .32 pistol to commit the robbery," said Srirang Nadgauda, senior inspector of Bhandup police station.
He added that DCP Ghurye has formed a special team under the supervision of assistant commissioner of police D Shejwal to track down the culprits.
Nadgauda said they suspect the same gang was involved in the firing on a commuter in a local train at Nahur station on December 7.