Most policemen deployed to protect 35 MLAs and 15 MLCs; Mukesh Ambani and his family, Tendulkars, Bachchans also on the list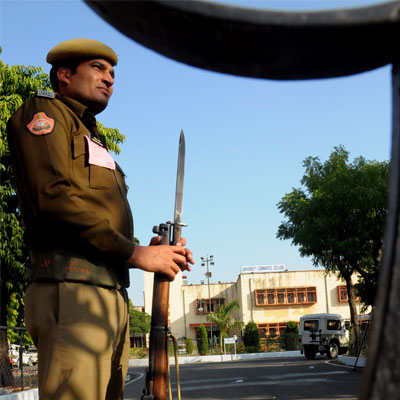 In a non-exhaustive list provided by the protection branch of Mumbai police, over 353 cops are said to be protecting 190 VIPs as on October 31, 2013. The details were given under RTI to applicant Chetan Kothari.
Kothari had sought details of the various people who are given VIP protection and who amongst those enjoy free security and who have to pay for it. The reply provides details of VIPs in the category of politicians, their relatives, film stars, businessmen and builders among others.
Interestingly, from the details provided, Mukesh Ambani has lesser number of policemen guarding him as compared to his wife, Neeta and sons, Akash and Anant. As per the list, Mukesh has only two police personnel guarding him, Neeta, Anant and Akash have four each. Mukesh's mother Kokilaben too has a guard protecting her. While the Ambani family were paying for all its security like 45 others.
Twenty five security personnel are provided to 15 people, who are the state politicians and their families. The wives of Ashok Chavan, Prithviraj Chavan, RR Patil, Ujwala Shinde, Vaishali Deshmukh and the son of Baba Siddiqui are provided with two guards each. Chhagan Bhujbal's wife and Jayant Patil's three children have one guard each.
Wife of Sena leader Uddhav Thackeray, his children, and personal assistant are provided with security as party workers. They had 10 guards apart from 11 guards protecting Uddhav himself and 16 positioned at Matoshree. Milind Narvekar has the most security guards with four followed by Rashmi Thackeray (two). Sachin Tendulkar's children too were provided with a security guard as per the Mumbai police's threat perception.
Most security went to secure the 35 MLAs and 15 MLCs. The two categories had 72 and 35 personnel securing them. The most security of four personnels each was provided to BJP MLA, Gopal Shetty, Congress MLA, Amin Patel, and NCP and Congress MLCs, Kiran Pawaskar and Bhai Jagtap. Nine MPs had a total of 20 security with Sanjay Dina Patil, the most at four.
Fourteen businessmen, have 29 personnel protecting them. Of these, the Wadhwan family had 10 personnels, which are paid for. Bollywood personalities included Amitabh Bachchan, Shah Rukh Khan, and Nadiadwalas'. Sajid Nadiadwala and his family have the most security at four with Amitabh and Shah Rukh have two each.
Some builders seemed to have more security as compared to the film stars. Amongst 19 of them, 26 security personnels were given.
Builders protected
Some builders have more security as compared to film stars. Amongst 19 of them, 26 security personnels were given. There were 29 cops protecting 14 businessmen. The Wadhwan family had 10 personnel.