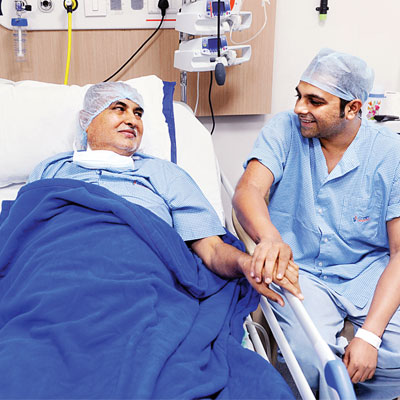 Not many sons donate kidney to their ailing parents, say doctors. However, 33-year-old Vikhroli resident Piyush Jethia has done just that. A month ago, when he came to know that his 58-year-old father Bhogilal would require a kidney transplant, he immediately volunteered to donate.
The father-son duo underwent a minimally invasive laparoscopic surgery last Thursday at Global Hospital in Parel.
"It was a unanimous decision... my wife Hetal, 33, and daughters Harshvi, 11, and Keya, 7, were completely supportive of this," Piyush told dna.
Bhogilal has had diabetes for 15 years and was on insulin therapy for the past seven years. When asked if he feared becoming diabetic in the future, Piyush said, "I just need to take precautions regarding my health and I will do fine. I would never have let my father undergo dialysis as it is a painful procedure and chances of infection are higher."
Only one in 100 patients wanting a kidney transplant actually end up getting one from a cadaver in Mumbai. "Most times, patients can't find a suitable live donor in family. Getting the organ from brain-dead patients is difficult. Usually, live donors are wives or aged mothers. Also, parents are not willing to accept kidneys from their children. There is immense social pressure involved in donating within the family," said Dr Prashant Rajput, consultant nephrologist at Global Hospital.
According to statistics obtained from the Zonal Transplant Co-ordination Committee (ZTCC), Mumbai, 3,983 people are waitlisted to receive a kidney in 27 hospitals across Mumbai. "However, not more than 20 transplants have occurred in the city this January. Last year, too, only 36 cadaver transplants took place," said a ZTCC official.
Piyush was discharged within three days of the surgery. "I will resume work this week. We run a business related to edible oils and construction. My father, however, will be under observation for the next five to six days," he said.
While, earlier, a donor had to bear huge scars for close to nine months, laparoscopically operating on the donor and recipient has made the procedure easier for all. "Three incisions of 1.5cm each were made on the donor to extract the kidney. We are the only set-up in Mumbai that conducts laparoscopic transplant. There is lesser pain due to minimal invasion," said Rajput.
Up to 6 lakh patients require kidney transplant in India ever year. They suffer from end-stage chronic kidney disease. "Only one per cent, or 7,000 patients, end up getting a kidney. Another two per cent are on dialysis. We do not know what happens to the rest of the 97%," said Rajput.